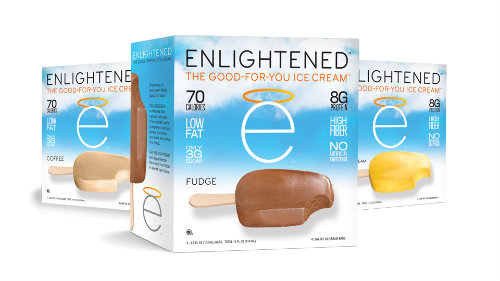 I love ice cream, but if I can it's the one thing I avoid. It's pretty much the worst thing you can eat. Full of fat, cholesterol, and sugar it has no redeeming qualities. I had some Haagen Dazs on my trip to Hong Kong a few weeks ago and I love sugar, but I felt so nauseous after having just one of those small containers (of course while I was eating it, it was great…). I don't understand why they put so much sugar and fat in there!! Seriously! It would be just as good, and in my opinion better, with less….
Since I don't anticipate Haagen Dazs or Ben & Jerry's changing their ways anytime soon I was excited to try Enlightened Ice Cream and find that it's not only nutritionally guilt-free, it's actually satisfying. I've tried similar products from my local health food before and for the most part they're so watery that you don't end up being satisfying. Not so with Enlightened. The flavor is rich, the texture is dense and even though the bars are low in sugar (3g!) they satisfy my sweet tooth (sometimes at least…). Chocolate is my favorite flavor. It tastes very cocoa-y and not the least bit artificial. Each bar is also high in fiber, has 8g of protein, and there are no artificial sweeteners.
The perfect summer snack if you ask me… They're also great for milkshakes or if you're making a frozen dessert in your Vitamix!