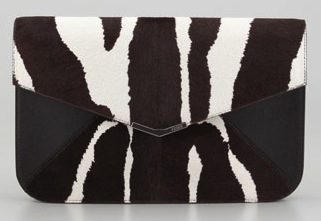 Fendi has really gotten it together with their bags this season. From studded neoprene to geometric colorblocking, they have definitely been piquing my interest as of late. But this clutch is doing much more than that. Read, it's going straight to the top of my must-have list for fall.
The brand is often at their best when they ditch the logos and overt signatures and get creative. Pony always plays a big role in fall's new wardrobe, and zebra is one of my all-time favorite animal prints. The combo, set off with saffiano leather for balance, makes for total irresistibility. Looks aside, my favorite touch is the super-smart wristlet strap: it slides out of the clutch when you need it and remains tucked in place, without getting in your way, when you don't. (Lanvin has the same system.) Not many bags possess all the right elements. With versatility, high contrast, and the right note of boldness, this 2Jours has it all.
Available for pre-order at Bergdorf Goodman for $1,500 (expect delivery by July 22nd).
Pair with: Ease the transition with a touch of gray, courtesy of Alexander Wang's Maryna sandals ($575). Architectural straps and sweatshirt-flannel fabric of heather gray come together surprisingly well.