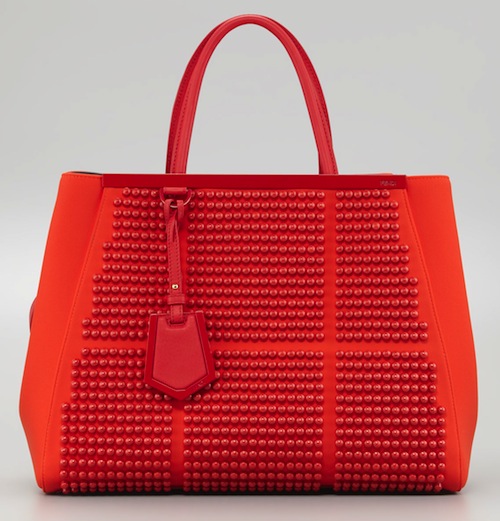 This tote represents what we love about summer. Piping-hot red gets with a carefree spin, and the smile-inducing combination of neoprene and enamel studs doubles your pleasure, doubles your fun. It's one-part surfer babe, one-part must of the season (those candy-button dots are not to missed at the moment), and one-part ladylike polish, thanks to the classic shape.
So what's not to love about Fendi's latest 2Jours bag? Unfortunately, the price just doesn't sit well with me. Too bad because it's such a cute option for summer. Which is precisely why this shouldn't cost you well into the thousands. A tag like this isn't in line with fun novelty. In fact, it sucks the fun right out of it.
At Neiman Marcus for $3,590.
Pair with: If the 2Jours suits your notion of a novel idea, finish off your accessories with Victoria Beckham's mirrored aviators. Pool-blue lenses will make an instant splash.
On Net-a-Porter
for $495.