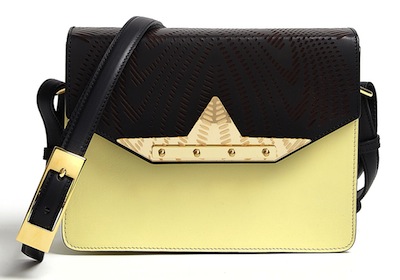 In a world dominated by the likes of Céline, Hermès and Chanel, up-and-coming new bag designers do not have it easy. The big names often prevent them from getting the attention deserve – that's why I like to support them when I spot something unusual. London-based Kzeniya Oudenot has a background in costume and set design technology, and her high-tech aesthetic translates to a bag line (established in 2010) that's edgy and futuristic.
Kzeniya is definitely one to watch, as proven by this refreshing take on an age-old classic: the shoulder bag. Precision-perfect angles offset the laser-cut details on the black flap, and it's clear that jolts of engraved Perspex are set to become their signature. A hard-structured eye-catcher like this is the perfect thing to bring juxtaposition to summer's soft florals.
Exclusively on My Wardrobe for $440.
Pair with: A soft floral like Nina Ricci's silk dress, a sweet silhouette that begs to be toughened with Kzeniya's tougher touch.
On Net-a-Porter for $1,190.