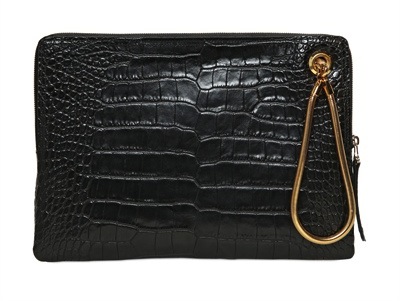 What a difference a wristlet makes. This is a pretty basic Lanvin pouch, but that snakey chain at the corner changes everything. It takes a simplistic (but still yummy) case made of croc-stamped black leather, and gives it a sense of desirability worthy of a modern-day disco diva. As well as a night on the town.
This is the kind of item that seems expensive for what it is on first impression and then you wind up using it basically all the time. Use it as a clutch, of course, but get your money's worth by storing your iPad Mini or Kindle in there when you've got a bigger tote in tow.. The contrasted rust silk lining reveals an interior pocket for credit cards and ID – which is really all I need. And props for the extra-long zipper pull, for an extra splash of character.
On Luisa via Roma for $990.
Pair with: A statement trouser will turn an all-black outfit into a total showstopper. Stella McCartney's Lydia trousers a scalloped and sheer, with a thigh-length underlayer.
On MyTheresa for $1,291.
This post is also available in: Chinese (Traditional)