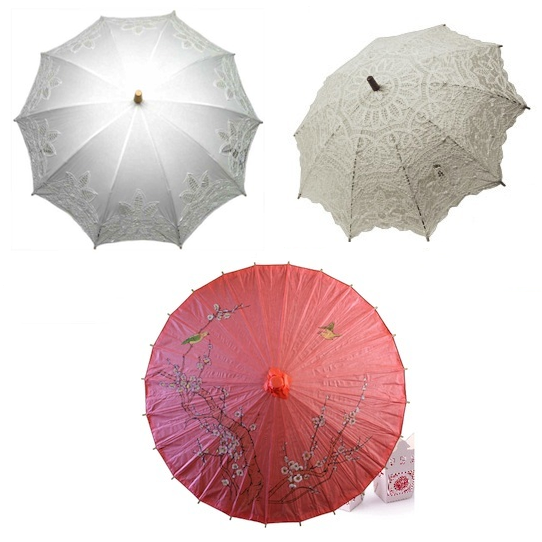 You don't see many people carrying sun parasols, but trust me – they're Snob Essentials for summer. Every available bit of shade and SPF is needed to keep your face looking fresh and youthful. Go kitsch or couture (which is still really kitsch) with one of these playful parasols. Just don't take them out in the rain – delicate feathers/paper/lace screens are made to beat the heat, not a downpour.
Battenberg Lace Trim Cotton Parasol: Add a little extra pomp and circumstance to your style with this sweet lace-trimmed parasol. Prop it up in the sand for a day at the beach or carry it for a stroll through the neighborhood à la a classic Victorian lady. On Greatlookz for $35.99.
Battenberg Lace Parasol: This virginal white lace parasol will have you looking like a fine Southern lady. You might even be inspired to carry a dainty handkerchief. On Ladies' Emporium for $39.95.
Pamela's Parasols Chinese Take Out: The first paper parasol was created in China 2,000 years ago, so these Chinese-inspired styles are true throwbacks. In those days, they were considered status symbols, as nobility had their servants shade them with elaborately decorated sunshades. On Pamela's Parasols for $12.95.
Pamela's Parasols Gigi: You have to be a little ballsy to carry an ostrich feather-accented shade, but carrying a parasol in this day and age is a statement in itself. Don't get shy on me now! On Pamela's Parasols for $140.