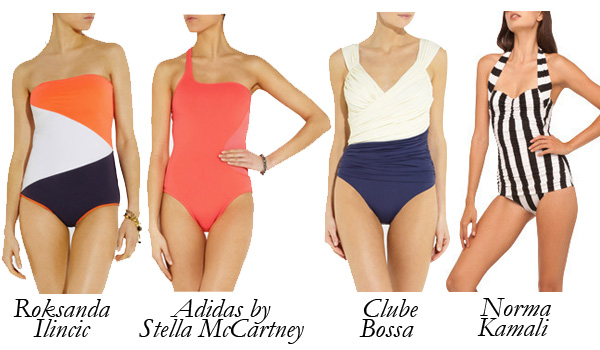 My least favorite time of year? Swimsuit shopping season. Expectations are high and the use of fabric is low. Don't feel bullied into a bikini. There's a surprising number of flattering one-pieces out there and far fewer Snobs in them, so you're sure to stand out. The best advice for suit shopping is to not let the dim lights of the dressing room fool you. Go and try on some pieces after lunch – if you look good then, you know you've found the right one!
Roksanda Ilincic Rodez Color-Block Bandeau Swimsuit: Colorblocking is a secret weapon on swimsuits. It's a pretty optical illusion that'll break up your torso and give you that thin waist you've always coveted. On NET-A-PORTER for $480.
Adidas by Stella McCartney Neon Mesh-Paneled One-Shoulder Swimsuit: Get Stella chic at a Frugal Snob price! If you still feel like a one-piece might be too blah, a little neon mesh might be just the thing to rev your engines. On NET-A-PORTER for $80.
Clube Bossa Couture Color-Block Ruched Swimsuit: Forget tummy tucks – With dark navy slimming your hips and full-body ruching accentuating all of your best features, you're as guaranteed to wow as ever. Exclusively on NET-A-PORTER for $540.
Norma Kamali Bill Mio: The tide of the graphic trend is riding high. Take advantage with some slimming vertical stripes (and a cute retro style to boot!). On Norma Kamali for $298.