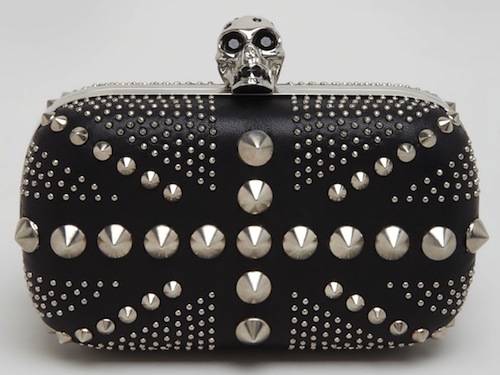 The Clash, Sex Pistols, and Ramones are my top three favorite punk bands. Givenchy, Chanel, and Dior are my top three favorite couture brands. So what happens when these two worlds collide? I get excited! That's why I'm thrilled about this year's Metropolitan Museum Costume Institute exhibit. "PUNK: Chaos to Couture" explores the way punk culture's DIY attitude has influenced made-to-measure haute couture. Street style-inspired high fashion certainly wasn't invented by the blogging generation. There just wasn't a name for it back then.
When I was a teenager, I wasn't allowed to wear torn jeans or spikes. Perhaps that explains my unyielding penchant for both now! In celebration of fashion anarchists, here are some of the best current punk-inspired bags:
1. Alexander McQueen Studded Britannia Classic Skull Clutch: McQueen was unapologetic in flaunting punk influences and this hot and heavy minaudiere makes for the ultimate studded clutch.
At Neiman Marcus for $1,525.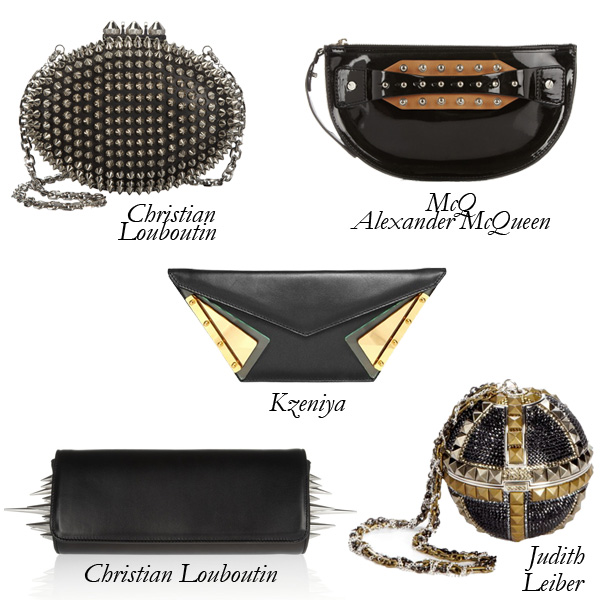 2. Christian Louboutin Marquise Spiked Leather Clutch
: Save this sleek-meets-scary clutch for the crowded club. Anyone who gets in your way falls victim to dagger-sharp spikes!
On Net-a-Porter for $1,295.
3. Judith Lieber Studded Sphere Minaudiere: Speaking of weaponry, this glimmering Lieber clutch doubles as a medieval torture device – in the most glamorous way possible!
At Saks Fifth Avenue for $1,917.
4. Christian Louboutin Studded Mina Clutch: Christian loves to pack a punch, and his favorite way to do it? Spikes, spikes, and more spikes!
At Barneys New York for $1,895.
5. McQ Collar Mini Clutch
: McQueen's baby-sister line is for bad girls all the way. Perforated leather keeps the studs from going overboard.
On Zappos Couture for $280.
6. Kzeniya Wild Leather Clutch: Go for New Wave-meets-punk (a la Debbie Harry) with this angular take on metal and black leather.
On Luisa via Roma for $320.
7. M'O x Hermès: 32 Kelly Graffite'd by Haculla: I don't normally condone DIY on sacred Hermès bags, but this is pretty rad. The one-of-a-kind Kelly was graffiti'd by famed street artist Haculla – it'll go fast!
Exclusively on Moda Operandi for $16,500.
8. Givenchy Embellished George V Tote: Who knew tote bags could be so cool?? My shopping partner Sasha Charnin and I have spent many a sleepless night discussing Givenchy's studded George V tote. Now it's available in punk rock silver cone studs.
Exclusively on Moda Operandi for $3,750.
9. Charlotte Olympia x Tom Binns Pandora Clutch with Pins: While Charlotte Olympia never seems to run out of genius ideas for updating her Pandora clutch, the idea to collaborate with Tom Binns is her best yet!
On Moda Operandi for $1,495.