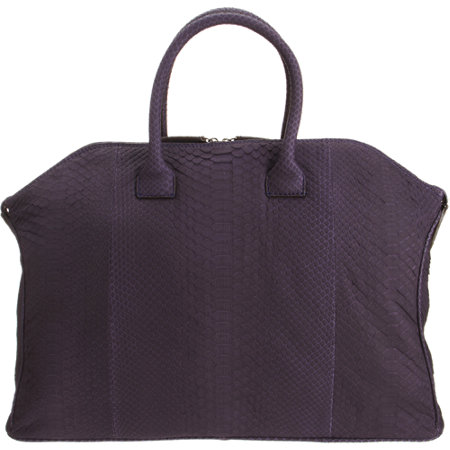 Boring? Maybe. Amazing? Absolutely. When it comes to copious amounts of crisp, clean, uncluttered python, Zagliani is where it's at. I have long loved their Tomodachi bowling bag, especially in its smaller size, so it's safe to now say I will love it forever. The enduring pull of python skin in the lush, matte shade of indigo blue has a way of never fading.
Especially when it's jumbo-sized. When it comes to something this classic and long-lasting, bigger is better and you want more to love. So here's to the smart investments that age like a fine wine. They don't come along often, and they're worth celebrating every now and again.
Exclusively at Barneys New York for $3,900.
Pair with: Deep, delicious blue will look even more fabulous with a pop of dark cherry red cinching the waist. Use Lanvin's transparent studded belt to get the job done right.
At Bergdorf Goodman for $780.