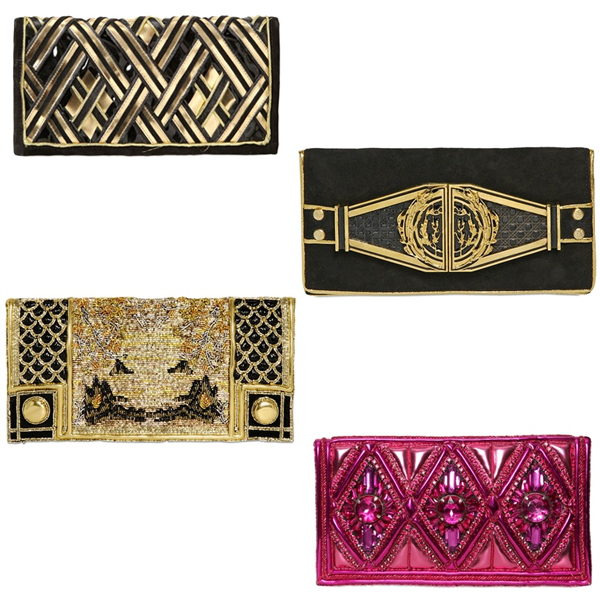 Always count on Balmain to stay true to their more-is-more sense of style, even when other big names are stripping down and going minimal. Their Pre-Fall '13 clutches exude old-world glam fit for Marie Antoinette…if she ran off and became a superstar Vegas showgirl.
These are all so fantastical, I can't decide which I like best. Is it the embroidered clutch of metallic gold leather and black suede, the laminated strips interlaced to latticework effects? Or the Dragon clutch, accented with a medallion so ornate, it looks like it might hold magic powers, or maybe the silk one, embroidered to resemble a classic Oriental screen? And then there's the searing-hot pink stunner of shiny quilted lambskin and sparkly Swarovski crystals, which is enough to make both Jem and the Holograms and a snob like myself swoon.
Are these clutches over the top? Most definitely! And I wouldn't have it any other way. I am lusting over every last exuberant detail. Evening bags like these are all the better for jazzing up your simplest cocktail dresses. If Olivier Rousteing and his lavish vision is wrong, I don't want to be right.
Available for pre-order on Luisa via Roma.
Expect delivery for suede Dragon, $2,473, and embroidered silk clutch, $3,731, by August 31st. Expect delivery for leather and suede and fuchsia Swarovski clutches, both $3,731, by September 30th.