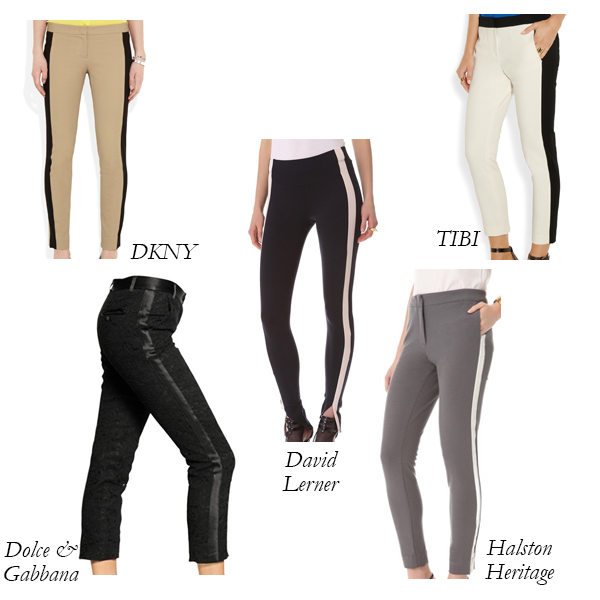 It doesn't need to be a special occasion to break out your tuxedo pants! Last fall's trend has kept calm and carried on all the way through the year, so gear up for summer. The elegant menswear-inspired style adds a surprisingly fun, sporty element to pants, elevating even the most humdrum colors and fabrics to chic heights. Which set of stripes has you starry-eyed?
Tibi Anson Woven Tuxedo Pants: Summery white trousers get a tune-up courtesy of jet-black racing stripes. Dress these up with a blazer or down with a simple white tee. On NET-A-PORTER for $295.
Dolce & Gabbana Tuxedo Viscose Silk Lace Trousers: The masculine tuxedo style with ladylike lace and satin! They're smart enough for the office and cool enough for your day off. Pre-order on Luisa via Roma for $1,695.
DKNY Skinny Stretch-Cotton Pants: Between the skinny style, the stretch-cotton, and the elongating stripes, your legs will look slimmer and trimmer than ever! On NET-A-PORTER for $150.50 (from $215).
David Lerner Tuxedo Leggings: You don't have to sacrifice comfort to look good! Take the formal style casual on elastic waist jersey leggings. On Shopbop for $110.
Halston Heritage Tuxedo Stripe Pants: Thin white stripes (and hidden ankle zips) inject some excitement into these otherwise basic gray skinnies. On Shopbop for $237 (from $395).