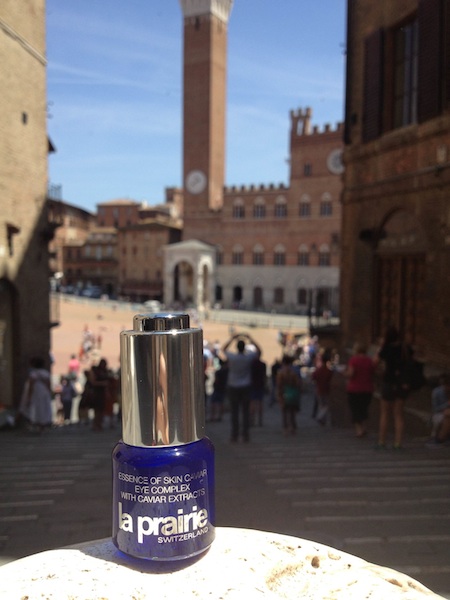 I've been so worried about the look of my eyes lately that I actually booked a doctor's appointment. Thank god La Prairie swooped in and pulled me back from the ledge! They sent me products for their ambassador program, but the La Prairie line is not new to me. I've been using their skincare since my early twenties. I had the foresight to be preventative, but unfortunately, there's no immediate gratification in that. I thought I would look the same forever. Youth truly is wasted on the young, isn't it?
You can bet that I know better now. I've been using the Essence of Skin Caviar Eye Complex ($135) on and off for 20 years, and I appreciate it today more than ever. After staring at my crow's feet, discoloration, and sunken eyes in the mirror for far too long, I decided to start using it again two weeks ago. After only one week, the skin around my hallowed out eyes firmed and filled up – it was like the complex was quenching a thirst. Within another week, my crow's feet have begun to fade, as well. They look a little deeper if I've spent the day smiling and laughing, but generally they disappear once my expression does.
The real challenge for me is tackling dark circles. While the complex made them a bit lighter, the real hero for this is the Light Fantastic Concealing & Brightening Eye Treatment ($70). The pen applicator comes in three shades, all of which are lighter than the average concealer, allowing you to blend well without caking. I use shade 10 – it adds so much brightness, I look like I'm glowing. This is an amazing tool if you love to contour your face and add highlights/lowlights. So many people have been telling me lately that I look radiant, even when I'm sleep-deprived and barely wearing any makeup – this is why! A few swipes of this secret weapon, some luminescent shadows, and mascara, and you're good to go. These products definitely came in handy when I was partying it up in Florence this week. I brought them to Tuscany (these photos were taken in Siena) for extra hydration in the hot weather and bright sun. Without them, I might start to look my age (the horror!!!). Check back tomorrow to see how you can win these products for yourself! Available at La Prairie.