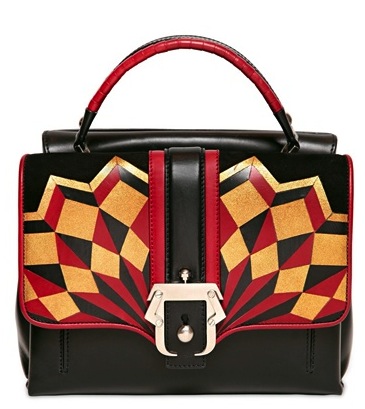 Gorgeous Art Deco-inspired details save this awkwardly designed bag. The architectural, tile-inspired pattern is right on, especially since the release of The Great Gatsby has ignited a frenzy for all things that look like they've been borrowed from the Jazz Age. But this bag has a seriously boxy shape, one that's been made even more cumbersome by the five-inch width. The optional shoulder strap doesn't help its cause; if it hangs, it's going to protrude from your hip like you're delivering mail.
But the details almost make it tempting enough to compromise for, from the unusual shape of the metal closure to the sparkly sheen of the pattern's gold details to the bright-red stitching on the handle. In fact, just carry it by the top handle and be conscious you're keeping the interior free from too much clutter, and you've got yourself a stunning piece of arm candy. Available for pre-order on Luisa via Roma for $1,816 (expect delivery by October 15th).
Pair with: Give your Deco piece some streetwise edge with Carven's leather skirt, which walks the line between polished and rugged. On sale on My Theresa for $731 (from $1,044).