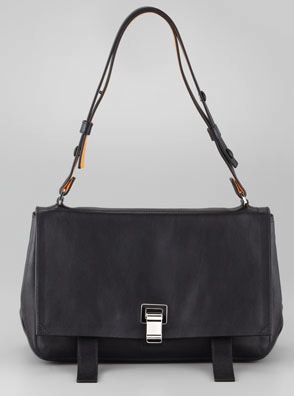 It looks like the PS bag has graduated – or at least the girl who carries it has. The Courier reads rather plain for Proenza Schouler, but don't think they've ditched their aesthetic entirely. It still sports some of their trademark details, like that signature hardware closure.
Think of the Courier as an inside-out version of the PS1. The resemblance may be subtle on the surface, but open it up and not only is a splash of tangerine unleashed, the straps are on the inside. Clearly, this is for the true PS connoisseur (you know who are!) who cares about the nuances. Overly discreet as it may be, it's still a great bag: couldn't be easier to carry and perfect for everyday. The no-brainer shoulder design allows for multitasking and the doubled-up straps of contrasting colors offer details to fix your eye upon. Plus, they adjust from top-handle style to full-on shoulder length. There's a little pocket under the flap, which is always a nice touch. So much so it's becoming a downright essential for bags with broad flaps. Sometimes you've got to give props to good and simple design.
Available for pre-order at Bergdorf Goodman for $1,475 (expect delivery by September 9th).
Pair with: A versatile pair of boots for a one-two punch of functionality. Manolo Blahnik's Bellantomod booties ($1,075) are endlessly versatile.