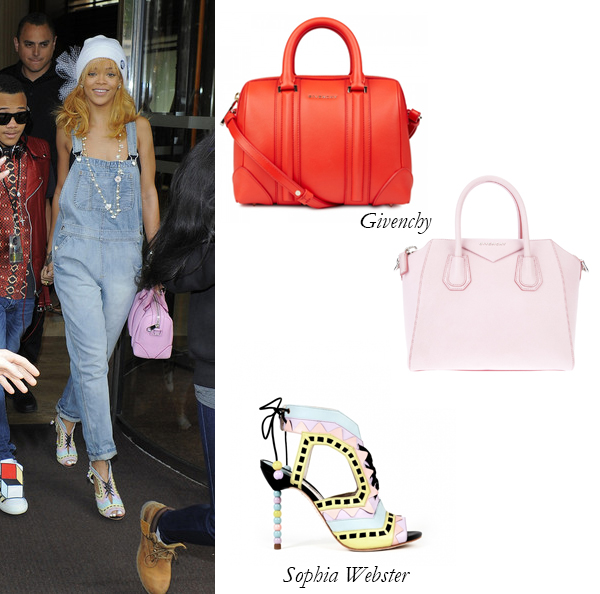 Nobody mixes unfiltered street with highbrow snob style quite like Rihanna. Besides, who else could even pull this off without looking ridiculous? Leaving her hotel in London yesterday, while holding her brother's hand, Rihanna went for a high-low mix of tough tomboy and girly girl. The contrast of pastel accessories, for a palette out of the ice cream parlor, against baggy Topshop overalls, a mesh sports bra, and quirky Silver Spoon Attire beanie is a jarring one – but it somehow works.
Maybe I've just been seduced by the yummy color of her Givenchy Lucrezia mini tote, out of their Spring 2013 collection. A petite yet fully functional size is the right way to showcase a statement color. The addiction of clear Chanel cuff and wildly detailed Sophia Webster Riri sandals (yes, they were named after her) don't hurt either.
You can pick up Givenchy's Lucrezia tote, $1,632, in hot orange at Harvey Nichols or their Antigona tote, $1951.56, in pale pink on Farfetch.
Sophia Webster sandals, $935, at Sophia Webster.