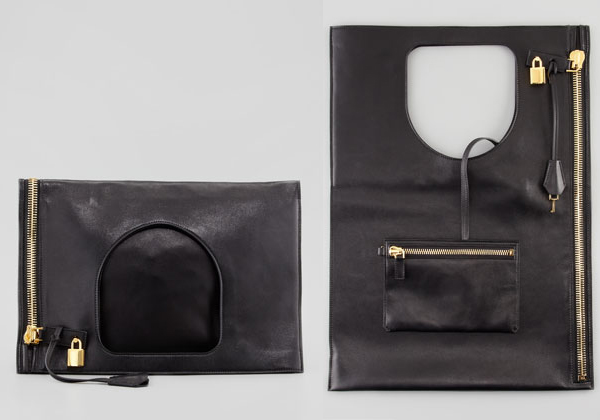 To the one and only Tom Ford: Everything you do exudes covetable glamour, down to your irresistible $50 lipsticks and your way with electric-cobalt suede. But I might have to draw the line at this flat fold-over bag. With a portal window, a wraparound zipper, and Ford's trademark padlock, which sends the message that your stuff is worthy of top-notch security, it's a quirky piece that's not without desirability. I don't hate it; then again, it's definitely not for me.
Think cost-benefit. As unconventional as it is for a black kidskin clutch, it's simply not worthy of such an investment. Let's be honest, a Tom Ford bag requires an all-out liquidation of assets to buy. Even though this one is shy of two grand (unlike the nearly $4k Natalia, which is admittedly gorgeous), it's no paltry purchase.
Fun and novel: when those words are involved, you already know what I'm thinking. This clutch doe not warrant financial maneuvering to make it your own. The snob who chooses to spring for it, puts the cash down because it's Tom Ford, no other reason. And evidently a lot of snobs have succumbed – it's currently on back-order!
At Bergdorf Goodman for $1,990 (expect delivery by October 22nd).