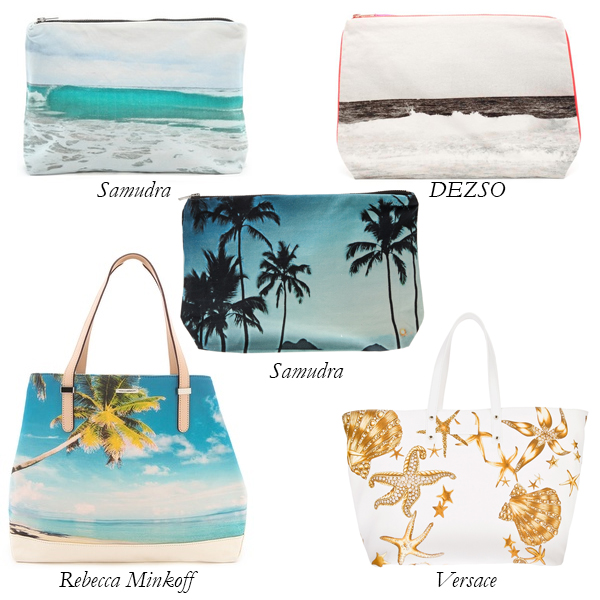 The best way to prepare for a fun vacation is by packing fun accessories like these tropically inspired canvas bags. If you can't go kitsch at the beach, where can you? My favorites are pouches – pack your toiletries in them, then once you've landed in paradise and unpacked, you can tote them around the resort. Even if you don't make it to the beach this summer, bags like these will ensure you have a little piece of the tropics to carry with you (sand not included!).
Samudra Tulum Wave Pouch: "Samudra" is Sanskrit for ocean, which is exactly what all of the brand's digitally printed bags depict. On Shopbop for $65.
Dezso Tulum Wave Cotton Canvas Pouch Clutch: The waves of Tulum, Mexico seem to be popular with designers! The water gets pretty choppy there – stick with the neon-piped pouch to get your aquatic fix. On Browns for $120.
Rebecca Minkoff Palm Tree Cherish Tote: The term "beach bag" takes on a whole new meaning with this tote. On Shopbop for $250.
Samudra Mokulua Clutch: You don't want to bring your nicest bags on vacation, especially on a sticky, sandy one. Samudra has a full line of convenient canvas pieces more than ready to travel. On Farfetch for $60.
Versace Printed Beach Tote: For something more abstract but just as beachy, try Versace's seashell printed tote. On Farfetch for $360.63.