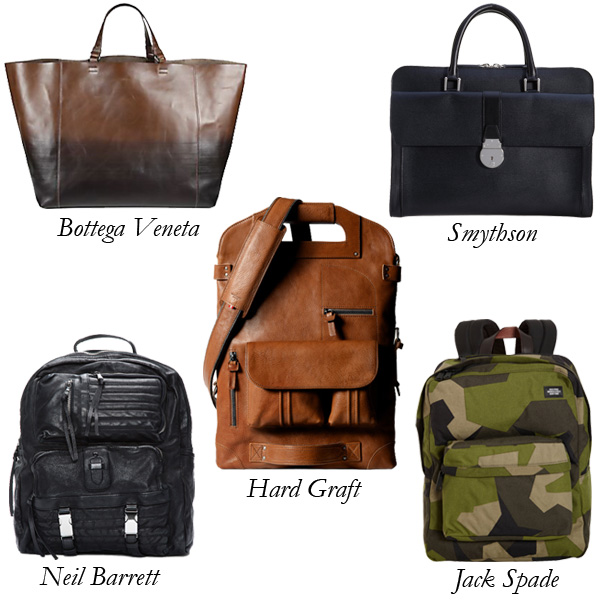 The elusive Man Snob bag: it must strike that delicate balance of no-nonsense functionality and style that's as unique as the man who carries it. Let's face it: guys have stuff they need to carry around, too! So why not seize Father's Day as an opportunity to make his life a little easier? Here, a bag that's just right for every kind of dad:
1. Tech-Savvy Dad: Hard Graft 2Unfold Laptop Bag
Just because he's tech-obsessed doesn't mean he has to carry a laptop case out of the Apple store. Hard Graft's bag is made of discreet Italian leather and finished with convenient compartments. Best of all, he can carry it as a briefcase, messenger, or shoulder style while his MacBook stays cozy and safe. (It holds a 15" or 17" computer.)
At Hard Graft for $661.
2. Suited-Up Dad: Smythson 13" Laptop Case
A father with a high-powered executive attitude (and career, for that matter) requires a briefcase with modern edge. Smythson's sleek leather laptop case doubles as a go-anywhere briefcase, and the Palladium-plated closure emphasizes its masculine feel.
At Barneys New York for $2,030.
3. Outdoorsy Dad: Jack Spade Swedish M90 Cordura Backpack
A man who embraces the great outdoors ought to embrace a durable backpack. Opt for one that's equally comfortable in the woods and on the street. Jack Spade puts a modern spin on classic camouflage. A padded back and water-repellent treatment guarantees plenty of usage.
At Barneys New York for $295.
4. Hipster Dad: Neil Barrett Blackl Treated-Leather Biker Backpack
Dads with super-stylish edge will appreciate an urban bag with loads of grit. Black leather reaches new levels of interest when it's got vintage texture, motorcycle stitching, and cargo-strap accents.
On Ssense for $1,425.
5. High-Fashion Dad: Bottega Veneta Ombré Leather Bag
For the father who expects nothing less than the best, it's Bottega all the way. He can get in on the ombré and flared gusset trends without looking like he copped your tote, thanks to the rustic finish and rugged color scheme.
At Saks Fifth Avenue for $2,800.