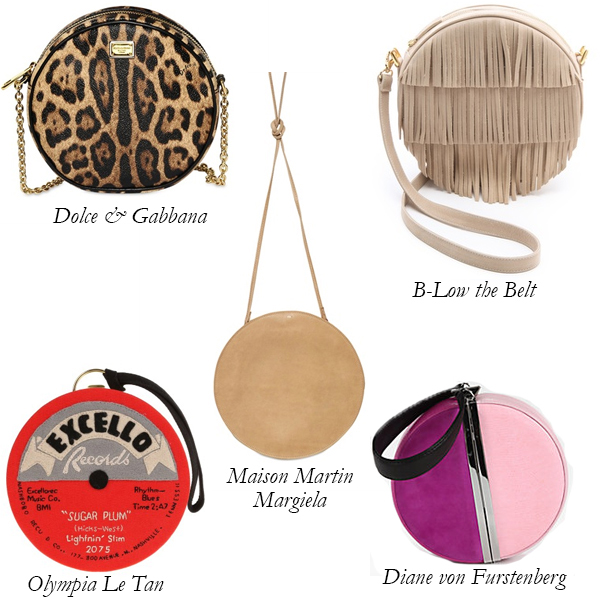 When it comes to bags, it's usually hip to be square, but why get constrained to boxy shapes and hard edges? A perfectly round silhouette breathes new life into the mini-bag, especially in crossbody form and it has a way of softening your whole look to mod-meets-modern effects. Here, five spherical baby bags to spin your right round this summer:
1. Dolce & Gabbana Miss Glam Leopard-Print Shoulder Bag: Gold links and wild-cat spots are quintessentially Dolce & Gabbana, and in a circular small size, this bag steers clear of over-amped glamour.
On Luisa via Roma for $575.
2. Maison Martin Margiela Large Round Leather Shoulder Bag: Think of bags-as-abstract art and think Margiela. Their metallic-tinged take on the curve has a clean, futuristic feel.
On Luisa via Roma for $434 (from $620).
3. B-Low the Belt Cleo Shoulder Bag
: If this Frugal Snob find was significantly bigger, the effect would be lost. But cropped fringe with smooth edges makes for a cute and youthful summertime companion.
On Shopbop for $328.
4. Olympia Le Tan Clutch: The new queen of kitsch wins us over with her Parisian sense of camp – and a playful on both the old-school record and the wristlet clutch.
At Colette for $1,530.
5. Diane von Furstenberg Colorblock Circle Clutch: Two tones and on sale: a flash of metallic leather completes the flirty vibe on this disco-inspired evening clutch.
At Saks Fifth Avenue for $311.50 (from $445).