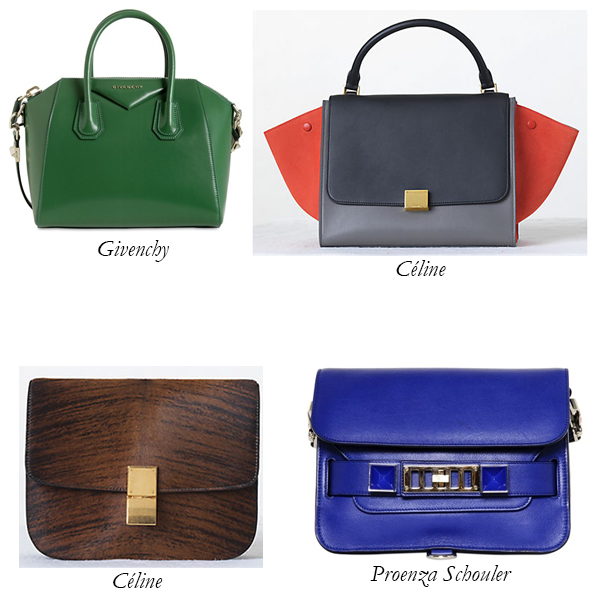 Who says you can't teach an old dog new tricks?! It's time to pay some homage to our contemporary classics. The It-bags on the decade have proven they have genuine staying power. Think about it: anyone who thought the PS11 was a one-season wonder was dead-wrong. It has now become more popular than the original PS1 tote.
Forget trendy new styles that are over before you've transferred your belongings. Stay with what's tried and true; luckily, these winners have gotten some attention for the new season. A crop of fresh colors and palettes will inspire you to stick with old faithful, without getting bored.
1. Givenchy Small Antigona Shiny Smooth Leather Bag: The Antigona isn't going anywhere any time soon. Embrace it all over again in a small size and big color. Kelly green will perk up any wardrobe.
On Luisa via Roma for $1,965.
2. Proenza Schouler PS11 Mini Classic Smooth Leather Bag: Need I say more on the subject of Proenza? In royal cobalt, the PS11 looks as appealing as ever.
On Luisa via Roma for $1,675.
3. Céline Classic Medium Box: When it comes to Céline, the Box remains my tried-and-true favorite. Now in chic tiger-print pony skin, it is just the thing we need for a fall update.
Available at Céline.
4. Céline Multicolor Trapeze: Trapeze, Trapeze, how I love to hate you! It's such a great shape that's perfect for colorblocking, but the big flap and its inconvenient closure have stopped me from committing. Now flamingo-red suede juxataposed against shades of gray calfskin may have finally closed the snob deal.
Available at Céline.