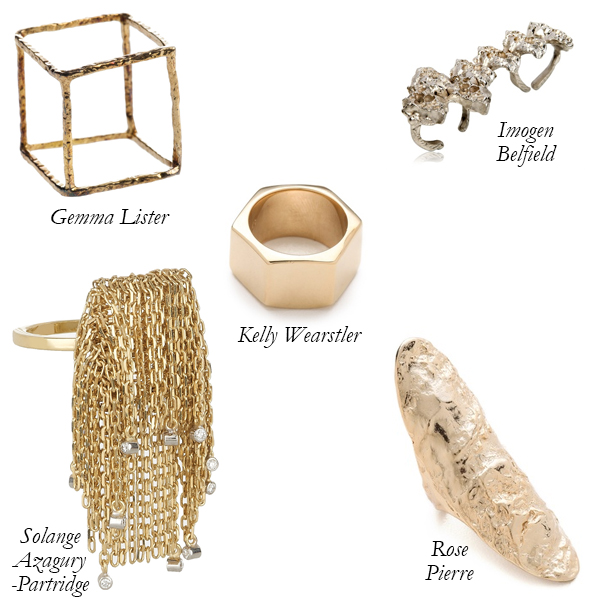 Sometimes you long to go outside the box (unless the box is this awesome cube ring, in which case, count me in). Go more traditional with pieces like your wedding band that you wear all the time. These rings are fun little affairs – practicality has no place in their designs. I love to stack jewels, but isn't it fun when you can get the added drama all in one neat package?
Solange Azagury-Partridge Fringe 18-Karat Gold Diamond Ring: The phrase dripping in diamonds seems pretty appropriate here – you just have to pay big for the opportunity! On NET-A-PORTER for $5,900.
Gemma Lister Cube Ring: This takes the idea of geometric gems to a whole other level. And since it's one size fits all, you don't have to worry about exact ring sizes. On Farfetch for $121.70.
Imogen Belfield Nugget Clusters Knuckle Duster Ring: Imogen Belfield once worked on runway pieces for Alexander McQueen, another fan of the knuckleduster! On Luisa via Roma for $432.
Rose Pierre Banyan Tree Bark Long Finger Ring: This ring is almost the length of your finger – fortunately, it stops just short enough to let you flex your digits. On Shopbop for $48.
Kelly Wearstler Bolt Ring: A truly utilitarian design – you could take it off and use it in a construction project! I have a feeling you wouldn't be able to part with it, though. On Shopbop for $225.