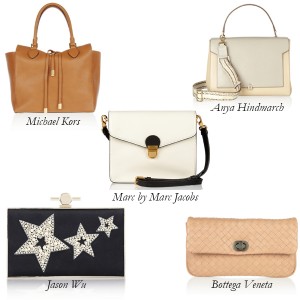 Bag Snob spots some must-haves on NET-A-PORTER for 70% off!!
SHEfinds found some tees that are so inappropriate even truck drivers would blush. Proceed with caution.
Beauty Snob dishes on all the great uses of hemp. It's not what you're thinking!
Fashionista reports that a "well-dressed" man stole 100K worth of jewels from Tiffany's. Just proof that good fashion sense can get you anything.
Couture Snob wants to see you in white jeans.
The Cut teaches us how to braid ribbons into our hair with GIF tutorials. Oh, how far technology has come!
Jewel Snob is spiking and stacking up a storm.
We Snobs are loving the safety pin punk look (dying for Jess Stam's Pandora clutch), and it seems Vogue is, too!
Can you guess Shoe Snob's favorite trend of the moment? Hint – it's about 90 years old and still completely chic.
Tot Snob is hoping the royal baby will be a girl – she already has a wardrobe curated for her!