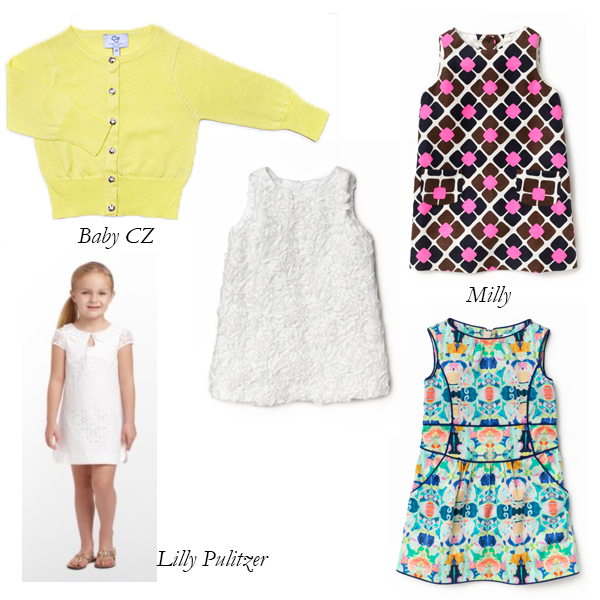 Will and Kate have been characteristically tight-lipped about the sex of their baby, but if the young royal is a girl, we'll have a few looks ready for her. It's a travesty that I don't have daughters – I love to play dress-up with Mini Snobs! Considering this one's mom is a mainstay on best-dressed lists around the globe, I have to imagine her tot will make an equally big splash in the fashion world. I'm seeing lots of dresses…
Lilly Pulitzer Mini Nicci Dress: Kate loves lace, and the angelic white Nicci ($348) is available for moms, too. Like mother, like daughter, right? At Lilly Pulitzer for $94.
Milly Minis Pocket Shift Dress: Milly Minis has a million cute sheaths to choose from. This one involves pink and pockets (tots love carry around treasures!) – just want a girl craves. On Milly from $160 – $175.
Milly Minis Romy Piped Sheath: Kate's wardrobe is bright yet full of monochrome pieces. This abstract kaleidoscope print could be a nice change of pace for her little one. On Milly for $195.
Milly Minis Rose Shift Dress: An English rose dressed in roses – could it be more perfect? This is just the look she'll need to head out on the charity circuit with mom. On Milly from $155 – $175.
Baby CZ Cotton Cardigan with Crystal Buttons in Citrus: The weather in the U.K. is famously dreary – a bright colored cardigan will warm her up and her outfit, too! On Baby CZ for $106.