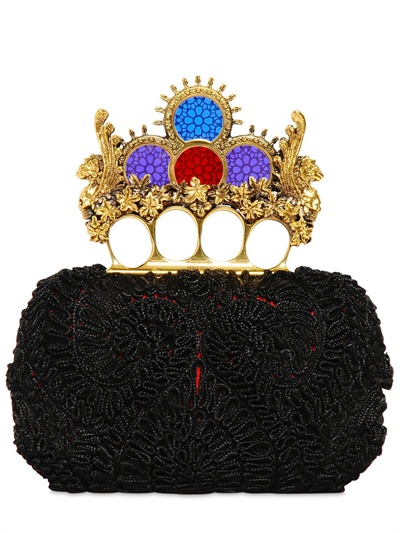 If there is one breed of bags worth collecting and then placing behind glass like precious ornaments in a museum, it might be Alexander McQueen's ever-expanding, increasingly opulent, petite yet potent knuckleduster clutches. Practical? No. But who ever claimed the evening clutch should be about function? Not me! (Though you know I love an expandable envelope and genuinely practical minaudière more than the next girl.)
The latest to tempt you to slide your fingers through its four oval rings is embroidered to the nines and splashed with color. Ornate antiqued gold sculpture reaches high and frames four mosaic-style medallions. Just below, coils of inky black embroidery reveal a scarlet base. The bits of red peeking through, as if by accident, make this clutch for me. The overall effect: gypsy-style allure. As if you traveled the ends of the exotic earth (or robbed an actual museum) and came back with a most precious souvenir.
Available for pre-order on Luisa via Roma for $2,995 (expect delivery by August 31st).
Pair with: Any of your sheer or crinkled chiffon maxi skirts will get a major upgrade when paired with Simone Rocha's cropped evening top of festive tinsel for an extra dose of texture.
On Net-a-Porter for $890.