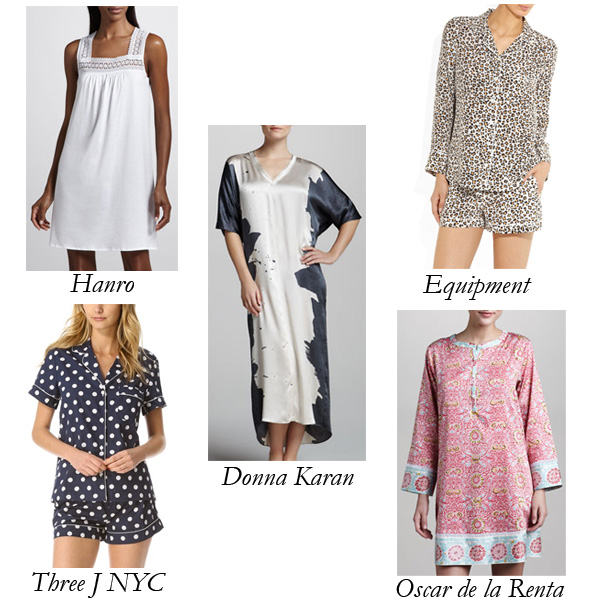 I love pajamas so much that I had to bypass the printed silk pant trend altogether. It would've made wearing actual pajamas outside of the house way too tempting, and then I'd fall straight into a rabbit hole of sleepwear confusion. I say lounge around in PJs this summer as much as you can – at home, on vacation, and of course, at night. Take a quick getaway to a beach house/mountain cabin/lake house, pour of big cup of coffee, grab your Kindle, and relax all day! Here are some favorites, ranging from shorts to full-length gowns:
Three J NYC Eloise Pajama Set: I buy new pajamas each season. You have to be prepared for the changing weather right? As an LA Snob, shorts are always a must. On Shopbop for $102.
Equipment Liliane Washed-Silk Pajama Set: Since I'm traveling to the land of can't-live-without-AC, I'm going to need some long sleeves, too. On NET-A-PORTER for $388.
Hanro Mia Lace-Trim Tank Gown: PJs are all about personal preference. If you like nightgowns, a breathable cotton one is great for hot summer nights. At Bergdorf Goodman for $180.
Donna Karan Twilight Two-Tone Silk Caftan: Sometimes it's nice to add a little flair to your sleep style. Silk will keep you cool, too – even with a full-length gown. At Bergdorf Goodman for $298.
Oscar de la Renta Jewel Tapestry Short Caftan: This colorful caftan-style gives you short length, but with a heightened sense of drama. At Bergdorf Goodman for $168.