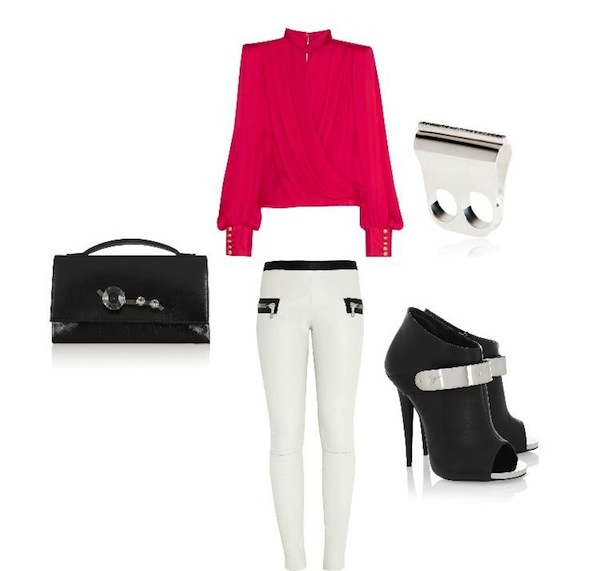 Working a great, big pop of fuchsia into your wardrobe is essential this fall. The hot color is an on-trend must and its unabashed brightness begs you to have fun. Intimidated? The easiest way to wear it is with strict black and white, though the pairing of fuchsia and camel is one of my favorite color combos.
Whether it's a sick blouse that blends seamlessly with your fierce staples or something super-bold, like a pair of moto-inspired leather pants, you can tailor your bright injection to your desired level of shine (and attention). Then again, nothing is better than an-all neutral outfit shocked with a searing bag or shoe to bring some spring to your step.
1. Balmain Silk-Satin Wrap Top: Rococo meets rock 'n' roll when Balmain takes on the classic blouse.
On Net-a-Porter for $3,755.
3. Giuseppe Zanotti Alien Leather Ankle Boots: A killer pair of shield-topped ankle boots makes for a game-changer in your shoe wardrobe.
On Net-a-Porter for $1,295.
4. Les Chiffoniers Zip-Trimmed Stretch-Leather Leggings: Bold as can be, snow-white leather leggings are the perfect complement to drop-dead fuchsia.
On Net-a-Porter for $1,420.
5. Miu Miu Embellished Cracked-Leather Clutch: A basic black clutch with not-so basic texture and jewel adornments stands up to fierce color without competing.
On Net-a-Porter for $590.
6. Diletta Gioacchini Silver Ring with Black Diamonds: A modern take on the cocktail ring, this is as sleek as it is statement-making.
On Luisa via Roma for $1,847.

1. Balmain Quilted Stretch Leather Biker Jeans: Biker-babe style just received the upgrade of a lifetime. These are the pants everyone will be pining after come fall.
On Luisa via Roma for $4,569.
2. Givenchy Small Antigona Grained Leather Bag: The snob classic is refreshed, all thanks my new favorite it-color.
On Luisa via Roma for $2,280.
3. O'2ND  Sleeveless Crewneck Sheath: A sweet-and-spicy dress makes for an easy September transition. When the temperature drops, just add matte-black tights.
Available for pre-order at Barneys New York for $425 (expect delivery in September).
4. Saint Laurent Paris Classic Pump: Sexy as a Guy Bourdin photo, this pump pays homage to eighties flash without sacrificing a high-class sensibility.
At Barneys New York for $625.
5. DKNY Textured Wool Coat: Can you say statement coat? You don't need a whole new wardrobe when your coat packs this much punch.
On Net-a-Porter for $795.