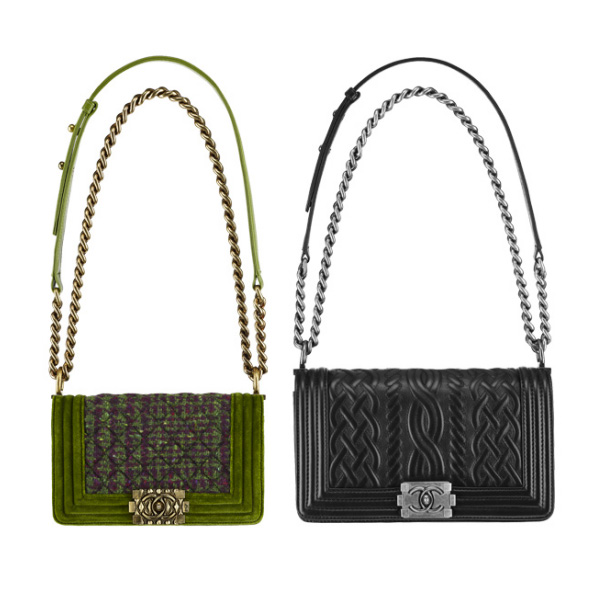 Nubby knits have never looked so seductive. No exaggeration. I am OBSESSED with cableknit embossing on the latest Chanel Boy, out of the Pre-Fall collection, which Karl aptly unveiled in Linlithglow, Scotland back in December. The location dropped a hint: the entire collection is inspired by Scotland, from the hefty tweeds to the somber plaids to the recently-acquired Barrie knitwear.
Warm layers are great and all, but a bag that's a witty take on a cable-knit sweater that's anything but novelty? That's something special. So are the subtly color-blocked blends of plush velvet and flecked tweed, razor-sharp fur and tailored leather. If it's a harder edge that strikes your fancy, the Chanel Boy Celtic is guaranteed to strike a nerve (one that says "this is a serious must-have"). Coated with a mesh chain, it's very edgy and streetwise for Chanel, yet absolutely elegant. Who needs to visit the rolling hills of Scotland when you can play Queen of Scots right here?
Medium-size cable-knit Boy, $4,400, and Mini-Boy Celtic, $4,700. Call Korey at Chanel (212-520-1055) or email him at korey.chanel@yahoo.com to get on the list – the Boy bag sells out quickly each season!
The cable-knit Boy is also available in red – exclusively at Bergdorf Goodman. Call 212-872-2858 and ask for Carlos Pesantez.