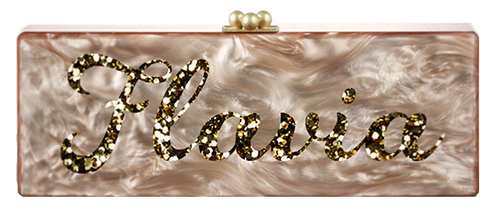 The bespoke Flavia minaudière by Edie Parker is for the snob who really has every bag. Just look at the ladies who have already been snapped with it in hand: Anna Dello Russo and Giovanna Battaglia are fans of flaunting their monikers with it. When your collection starts to feel complete, it's nice to enhance it with a few personalized pieces.
Getting your name scrawled across in sweet script is the obvious way to go, but you can also customize this perfect party clutch with the name of your love, an uplifting word, or maybe best of all, something totally cryptic only you understand.
When ordering the handcrafted clutch, you also get to choose the color (silver or gold confetti, white, nude, or steel pearlescent), as well as the color of the lettering (sparkly confetti or solid black). Ringing in at $1795, this makes for a great gift, one that would make you a very good friend. But as they say: it's better to give than to receive.
At Edie Parker for $1,795 (expect 4-6 weeks for creation and delivery).