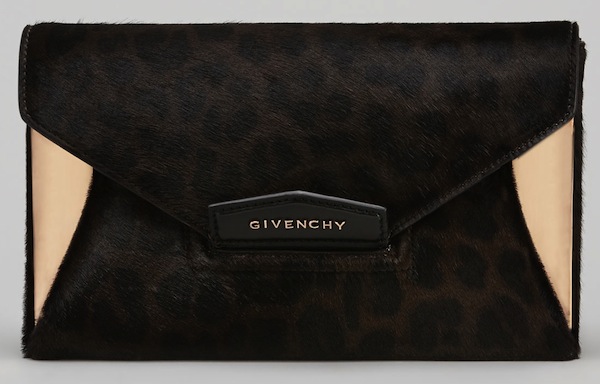 My obsession with Givenchy is getting ridiculous. There's only one way to curb it before it gets totally out of hand, and that's to go ahead and buy something from, duh, Givenchy. When love runs this deep, making a big purchase is easily justified – who can argue with true love?! At least that's what you tell yourself. And by  "you" I mean "I."
That subtly spot-on print and the brand's signature flap-style closure are both all good, of course. But it's those metallic details that got me running hot. With just enough contrast and a perfect amount of pop, they're like brilliant punctuation marks that softly scream for attention. Essentially, that's the beauty of what Givenchy (with Riccardo Tisci at the helm) does. A bag like this never feels run-of-the-mill, yet there is nothing desperately spotlight-seeking about it. This is bad-girl-cum-elegant glamour that feels natural – and it makes me feel like a natural woman.
Available for pre-order at Bergdorf Goodman for $1,810 (expect delivery by October 22nd).
Pair with: Come fall, this clutch paired with a dark purple ankle boot, a la Gianvito Rossi, doesn't just force you to mix your metals with nonchalance. It makes for a rock 'n' roll mix that feels effortless.
At Barneys New York for $1,035.