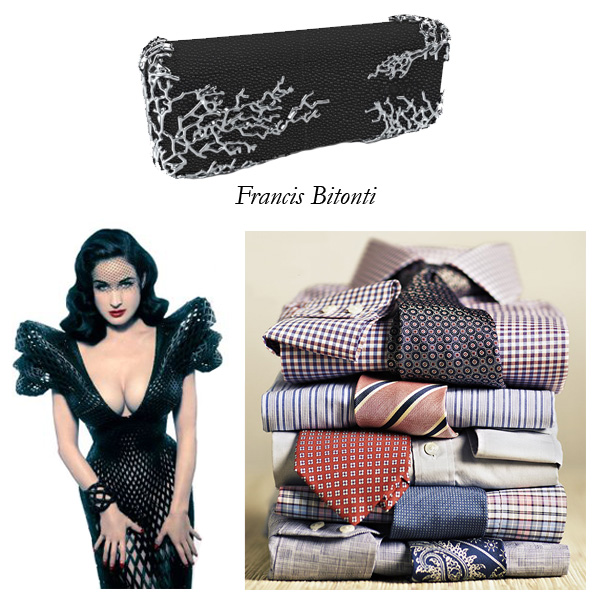 Fashion designers have never been afraid to break the mold, and with the rise of 3D printing, they can now create a brand new one with each different design. They've already experimented with the medium on everything from ready to wear (Francis Bitonti and Michael Schmidt's dress for Dita von Teese) to bags to jewelry. And this is just the beginning. Just wait – 3D printing will end up being the biggest technological advancement in fashion since the sewing machine was invented over 200 years ago. It can eliminate the painstaking (and expensive) process of creating samples in a far away factory by allowing designers to make models from their desk in just a few short hours. This will give new and small-scale talent a better chance to succeed. In some cases, 3D printing can even build the final product!
Technology is also being developed so that we can print in aluminum and titanium, which is extra exciting for Bag Snobs. Designers will be able to create custom metal cages to overlay minaudières like Bitonti's stingray leather clutch (pictured above). And this specialized trim can work for all kinds of accessories – imagine a one-of-a-kind buckle on every belt. It would redefine the idea of couture. After all, if it's the attention to detail we're after, you could argue that the craft of coding a custom-made design is just as special as hand-stitching Chanel couture lace. Then again, maybe it's the many hours spent by working human hands that we truly value. We'll find out the answer as the popularity of 3D printing continues to grow.
There's already other new technology that allows you to create custom-designed ready to wear. United Styles lets customers choose styles, trim, and even made-to order-prints (you choose a base print, change the color and scale of it to suit your tastes, and then choose where to put it on your final design). I have no idea how they're able to do this at the prices offered. For just $149 you can design your own dress with a user interface that's not unlike the dress-up games my daughters love to play. You use arrows to click through to different options for each aspect of the dress. Who knew fashion could be even more fun??
Another noteworthy service is J. Hilburn. Sadly, it's only for men, which makes sense since their measurements have fewer variables. They send a professional stylist to your home or office, take measurements, consult with you on your look, and make recommendations. All of these custom-made to measure pieces come for just $99-$129 for shirts, $225 for pants, and $520-$850 for suits. Kind of unbelievable. I had to take my husband all the way to Hong Kong to get shirts and suits made! Sure, the shirts were only $40 and the suit was around $500, but the convenience of J. Hilburn's service would've been completely worth the added cost. Once they have your measurements you can go online whenever you want to order more pieces, or you can consult with your stylist via e-mail or on the phone for extra assistance. With service like this, everything will be bespoke soon!
Yes, there are a lot of naysayers who fear that technology will stunt the creative spirit, but I vehemently disagree. With fewer barriers, those who work best outside the confines of corporate bureaucracy will be able to shine. And really, what great designer ever worked best stuck inside the box?
Image Credits: TechCrunch