Congrats to Courtney H. of Charlottesville, VA and Diya Fu of Austin, TX – winners of the Hourglass giveaway!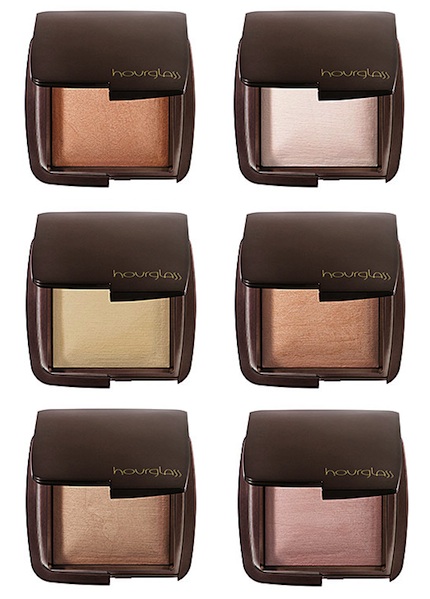 Hourglass' Ambient Lighting Powder just landed on Sephora's Hot Now List and here's why – rather than use one of those countless Instagram filters, these powders will give you the Photoshopped look in person! The six shades ($45 each – check them out below) provide different types of ambient light, ranging from a moonlit glow to a candlelit one to even radiant sunlight (who wants harsh lighting, though?). Each helps in a different way. The diffused light improves the appearance of Rosacea, the pale yellow reduces redness and leaves you with clear-looking skin, and the dim light (my pick!) blurs out all of your imperfections. Mix and match if you like – blur out acne-scarred cheeks while putting ethereal light around your eyes and nose.
Still not sure which to get? That's no problem because we'll be giving two readers the chance to win full sets (retail price: $270 each). For a chance to win, like the Snob Essentials Facebook page, then write in the comments section below that you've entered. The giveaway will end on August 2nd, when a random computerized drawing will select the two winners. Good luck!
Ethereal Light: A sheer, cool tone that eliminates shine and mimics a moonlit glow – even in broad daylight.
Diffused Light: A soft and warm pale yellow that reduces redness, eliminates shine, and gives skin clarity.
Dim Light: A neutral beige that provides the perfect balance of warm and cool tones to blur imperfections.
Mood Light: A sheer lavender pink that mimics the softest, most forgiving light and brightens the complexion.
Luminous Light: A champagne pearl that creates an incandescent candlelit glow—day or night.
Radiant Light: A sun-kissed golden beige that enhances the overall complexion with believable, subtle warmth.