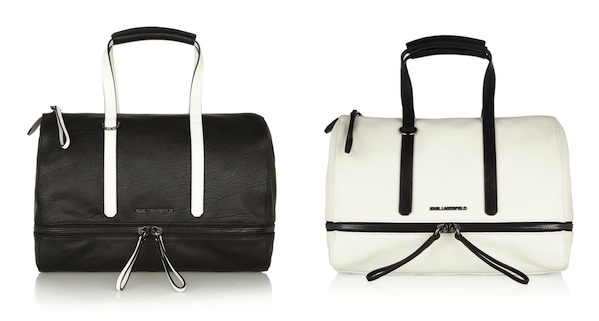 As a regular bag, I wouldn't use this. But as a carry-on, gym duffel, or overnighter, it's perfect. Especially because it has a detachable shoulder strap, which makes for hands-free travel, wherever you go. Another plus (and hint that this is for heavier lifting than most totes): the base unzips to expand the square footage. It's not by much, but when you're on a trip, every little bit counts. Stuff seems to expand even when shopping isn't involved (which is NEVER!).
A graphic combination of black and white is very Chanel, but this is Karl Lagerfeld we're talking about. Under his label, the riff feels appropriate and acceptable. With a hip and casual feel, think of Lagerfeld's namesake brand as Chanel's younger sister. The Bowletto also comes in a palette reversal of white with black trim, but I know better. I can already see this optic white leather getting dirty in a hot minute. There will be a scuffmark or two barely before I make it out of the house. When it comes to locker rooms and airports, jet black is the way to go. On NET-A-PORTER for $489.
Pair with: Whether you're going to the gym or out of town, travel in style with Superga x The Row's luxurious collaborative sneaker. It's cashmere. Need I say more? At Barneys New York for $250.