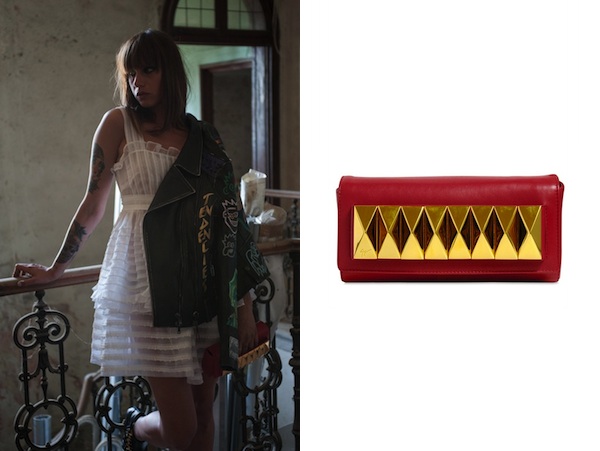 And now for the conclusion of our LVR Style Lab series. As I blogged last month, Giuseppe Zanotti's bags are getting better and better with each season. In terms of function, I still think his jeweled clutch ($1,275) is hardware heavy, but it was so perfect with this outfit and the event's punk theme. In Dolce & Gabbana's sweet white dress ($6,725) our model channeled Madonna's "Like a Virgin" days with a hint of Courtney Love's signature grunge glam to boot. We added super-buckled Zanottis ($1,450) to drive the punk point home (and yes, the model's tattoos and piercings were real). After you take a peek at the pieces, head over to the sale section – now through July 24th, get an extra 10% off discounted items with the code FR1057LT. Available on Luisa via Roma.
Image Credit: Tommaso Fontanella
My long time collaborator and photographer, Tommaso Fontanella with Andrea Panconesi, proprietor of Luisa via Roma, helping out on our shoot. Talk about hands on!
Me trying to show the model how I want her to pose without flipping over the railing.
Kelly doing her thing.
Incredible dinner at the Boboli Gardens on the final night of the 7th edition of Luisa via Roma's Firenze4Ever.
The table for 300 flanked the center fountain.
Good friends, old and new. Robert Cavalli, moi, Nicole Warne a.k.a. Gary Pepper Girl (my new obsession – she is as sweet as she is beautiful), Tiany Kiriloff and genius art director/stylist Declan Chan.
Kelly in her Grunge Glam gear.
Thank you, Luisa via Roma, for another magical trip to our favorite city in Italia – Firenze4Ever indeed!