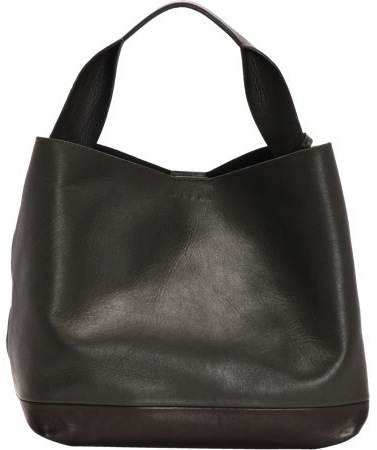 It's only natural that I wish there was more to this bag, but then again, I love the shape. It's a totally relaxed take on a bucket tote but it's not a bona fide hobo. Essentially, it's an easy throw-around bag that's got more personality (and somehow more elegance) than your average big bucket.
The all-lambskin bag comes in subtly contrasting shades of dark sea green and faded "carbon" black, but I think it would be cute if Marni had opted for different textures on the lower and upper portions instead. A slight difference in shades is great since the last thing any of us need is yet another color-blocked bag. As for the necessary elements, that attached pouch on the inside is key. This is a big bag with no other organization – without that case, I would spiral into a mad rage when I realize it's impossible to find anything. When your minimal bag offers maximum space, just make sure you don't throw your whole life in there at once.
At Barneys New York for $1,150.
Pair with: The femmed-up bomber is the jacket of the moment. Day Birger et Mikkelsen goes for decadent neutrals with a floral-jacquard motif.
On Net-a-Porter for $320.