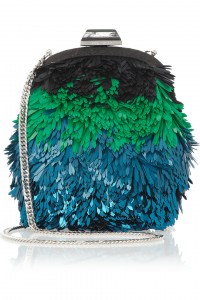 Frisky and fun or funky and fugly? While there is something definitely smile-inducing about this baby evening bag, I can't help but keep thinking it resembles a house-cleaning tool that resides under my sink. And what's fun about that? Especially when it rings in at barely under 3K.
About a thousand hand-embroidered, razor-cut paillettes cover this color-blocked shoulder pouch and a touch of simulated python trim covers the frame (really, for this price, they couldn't add a strip of the real thing?). Topped with an almost-rugged silver chain strap, it almost projects a rocker-babe feel – and that would be the only way to style it. Because if you don't work it with confidence, it's going to read like a super-glamorous mop. Or something that snuck off the set of Fraggle Rock. And for all you early-eighties babies, maybe that's not a bad thing…On NET-A-PORTER for $2,795.
Pair with: A sleek and modish ankle boot with slick patent-leather shine. 3.1 Phillip Lim makes plain, practical black feel exciting. At Neiman Marcus for $495.