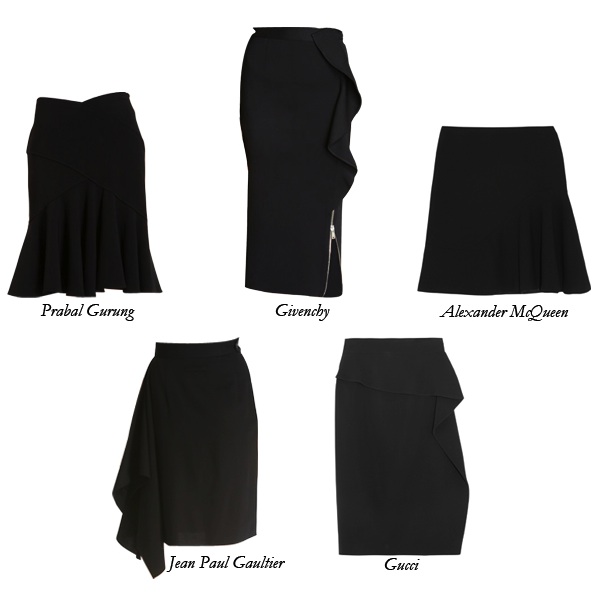 Lately I've been taking my couture with a twist. Your must-have LBDs shouldn't be basic and neither should black skirts. And it's all about the skirt this season, so choose wisely. Start with a pencil shape – this is an essential that will serve you well for years and years. Just make sure it's not the same one every other woman in the office is wearing! I've found a few with both dramatic flair and versatility. Pair yours with a new top each time you step outside the door, and it'll feel like you're wearing a brand new outfit.
Gucci Stretch-Cady Wrap Skirt:
Gucci's ruffles straddle the line between sexy and work-appropriate, meaning you can wear it from 9 to 5 without having to change before happy hour! On NET-A-PORTER for $1,200.
Alexander McQueen Fluted Wool-Crepe Mini Skirt:
If you're a petite Snob, go with a mini (and a pair of sky-high stilettos) for added height. On NET-A-PORTER for $695.
Jean Paul Gaultier Pencil Ruffle Skirt:
JPG's draped skirt is quite the looker, but it's just as much about function. Pockets? Yes, please – I'll take two! On Shopbop for $710.
Givenchy Side Ruffle Pencil Skirt:
This may be the longest of the bunch, yet with the seductive zipper detailing, it's far from dull. Pre-order at Barneys New York for $1,375.
Prabal Gurung Ruffled Flounce Skirt:
Feel like dancing? Get ready to ruffle and roll! Any piece called a "flounce skirt" is bound to kick up storm under the bright lights. At Barneys New York for $850.