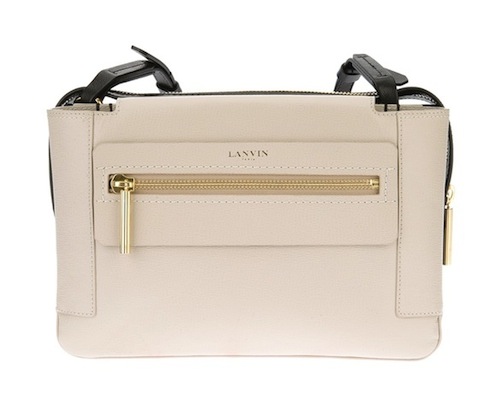 I'm currently loving small, easy, no-nonsense kinds of bags for my low-maintenance mood (which seems to my only mood these days). I always relish the opportunity to travel light, and I'm quick to ditch big, heavy baggage whenever possible. Lanvin's new Le Jour clutch, which is actually a slim shoulder style, is one of those like-minded bags that is sure to keep me away from the heavier stuff for the foreseeable future.
It's a brilliant size: large enough for all your daily essentials, but as unobtrusive as can be. The slim profile and short shoulder strap keeps the whole thing feeling compact. The zip-finished outer pocket is key to its ease; the hardware-free strap attachment is refreshingly minimal. And it's two-faced in a totally positive way: clean, nude leather on the front is ready for you to flaunt, but the black is black, which is so smart. Go ahead and carry it next to your darkest indigo denim, without spending a moment having to worry about crocking. Or about much else, for that matter. On Farfetch
for $2,040.72.
Pair with: Think basic with a twist and add an element of urban edge with R13 Moto Chaps jeans, a hybrid of faded black denim and leather pants. On NET-A-PORTER
for $1,250.