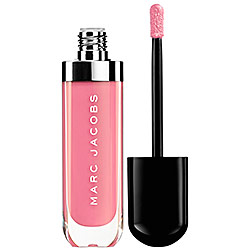 When Marc Jacobs does anything it inevitably gets a lot of attention, but it reaches another level when he launches something new – especially when it's a whole line. Case and point the buzz that has been building around his makeup line has been insane even the New York Times wrote in a recent article "But perhaps the most curiosity has been about Marc Jacobs's new line, which arrives at Sephora stores on Aug. 9." When word got out to my friends that I had samples of the new line even people I never though of as being interested in the latest beauty happenings were asking me about the line! According to Jacobs the sleek understated black lacquered casings of his products were inspired by the shellacked finish of his coffee table and the designer is launching with a bang – 120 pieces priced from $18 to $78 and sold exclusively at Sephora.
Two early standouts to me are the designer's Lip Lock Lip Balm – not only is it just about the chicest balm I've ever seen, but it come with SPF 18 and it's formulated with a bunch of moisturizing ingredients and mint to sooth – and his Lust For Lacquer Lip Vinyls, which are champagne flavored. The only thing that isn't great about the latter is that they have a sponge versus a brush applicator, which from my experience always makes my lips a little bit sticky.
Will you be shopping the new Marc Jacobs beauty collection?