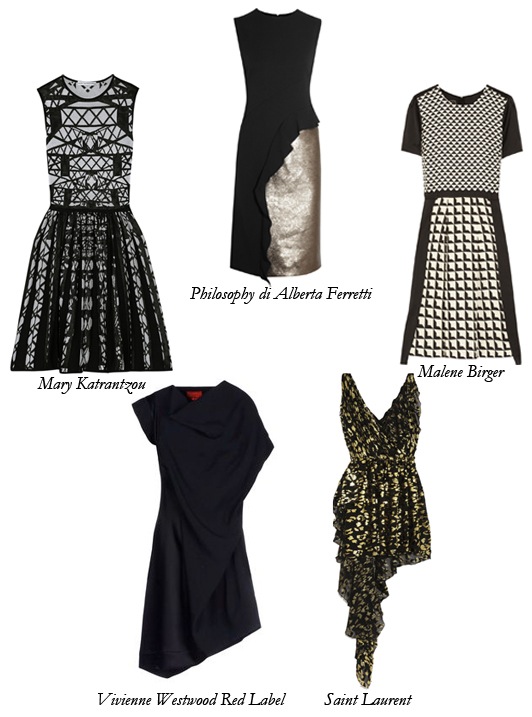 Every woman needs an LBD (or you know, ten!). They're sexy and essentially foolproof. But being foolproof also means that sometimes these dresses err on the side of basic. We don't all want to be wearing the same thing! Add a little sparkle, ruffle, or print, and suddenly the LBD becomes a statement maker. Which one of these is your statement?
Vivienne Westwood Red Label Short Dress:
 While this is just solid black, it has a shape to die for! Asymmetry is in – whether it's a crop top, a skirt, or Westwood's crepe LBD. On The Corner for $855.
Philosophy di Alberta Ferretti Sequined Crepe Dress:
Fall and winter are the seasons of sequins (and sparkle in general). Ease your way into them with this asymmetric design. On NET-A-PORTER for $1,395.
Mary Katrantzou Patterned Wool-Blend Dress:
Designers often credit architecture as inspiration, but instead of building a structural dress, Mary has decorated her figure-flattering LBD with a bridge-inspired pattern. On NET-A-PORTER for $2,280.
Saint Laurent Ruffled Metallic Flocked Silk-Blend Dress:
Saint Laurent dresses always make us gasp in excitement, only to leave us gasping in alarm as soon as we see the price. If you can swing it, do (and let me borrow!). On NET-A-PORTER for $8,490.
By Malene Birger Bianta Printed Crepe Dress:
Spring's graphic black and white trend is making its way into the fall season (honestly, it's not as if black and white will ever really go out of style). On NET-A-PORTER for $425.