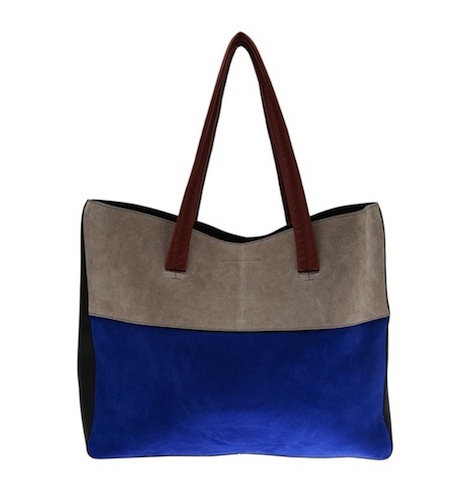 A bag like this proves that nobody, even after all these years (18 since he presented his first ready-to-wear collection), does color-blocking like Narciso Rodriguez. Tri-toned slip-dresses and easy-equation geometry abounds in his Fall 2013 collection, but I prefer to take this matter into my hands, via a roomy tote.
I think I love the colors more than anything else. Striking and surprising yet so logical, cobalt-blue suede along with oxblood-brown handles makes for a a brilliant combination. A wash of gray in the middle softens everything up and makes for a perfectly uncomplicated overall look. Sure, it all seems so simple, but that's the genius of it. Narciso proves you don't need to employ hardware to master interesting details.
Black leather on the gusset punctuates all that cloudy, plush suede and also keeps the bag's shade, so your unstructured suede won't just flop over. The leather bottom is happily also in black, as well, so you don't have to worry about where you place your new suede bag. On Farfetch
for $1,250.
Pair with: Pick up on the black and stick with Narciso, adding his slim, pointy, practical ankle boot to your collection. An easy wedge heel adds just enough height. At Barneys New York
 for $1,295.