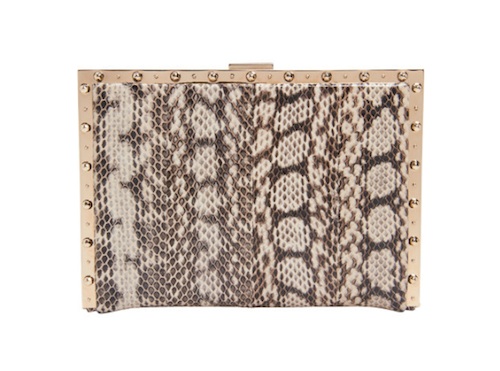 This Nina Ricci clutch has been framed – and it was an act of genius. You will only fully appreciate it once you see it; a close encounter is the only kind that will do it justice. But you can trust me, it passed the snob test drive.
Sharp-looking and easy on the eyes, this slim cocktail of exotic skin and hearty metal comes in at a respectable 9": substantial enough to make the statement you want (as in, take notice and stare!), but with no gusset and a serious frame, don't expect any give here.This is to be reserved for evenings only. Which shouldn't be a problem; you'll want to keep it feeling special. In the gorgeous pattern of natural watersnake, it's impossibly versatile. All the wearability of black, with none of the snooze factor (and the striking coral lining doesn't hurt, either). The metal frame releases at the top with a push-lock closure, so the body remains structured within the frame all the way through. Sure, it's ultra-slender, but that precision is what makes this pochette so spectacular. With faceted studs on one side only, it's up to you: edgy and cool or clean and refined? Either way, it's so lovely I instantly fell head over heels. Exclusively at Barneys New York
for $1,935.
Pair with: L'Wren Scott's stretch-jersey dress, a classic play on black and white, equal instant Parisian cool. On NET-A-PORTER
for $1,890.