You can't always control how much space you get in your home, but you can control how that space looks. Everything from color to lighting to clutter can drastically affect your mood, and considering most of us spend more time at home than anywhere else, these small issues really add up. Here are 5 easy decorating tips to help make a small space seem bigger and brighter:
1. Furniture
It's best to make one great piece of furniture the focal point of a small room. Think of it as a statement accessory. Items like a boldly colored chair (on Lookboard for $484.21 each) or unique side tables pop the most, yet multifunctional pieces such as Ikea beds with drawers (at Ikea for $299) or coffee tables with built-in shelving are also worth considering. If you'd like more furniture, try to match it to the walls – this will blend into the room, making it appear larger – and make sure it is not too close to the ceiling (which will make the room appear smaller than it is). The best pieces for opening up a room are sofas with open arms and exposed legs like Philippe Starck's ghost chairs (at Stardust Modern for $410 each) and glass tables. Place all of it at an angle. Since the longest line in a room is its diagonal, this will lead your gaze along a broader distance, expanding the space rather than emphasizing the shorter wall. Added bonus – it'll give you extra storage space in the corner behind the furniture!
2. Color
My designer Ginger McGann once told me that if you paint the wall trim, moldings, and ceiling a lighter color than the walls, it will give the illusion of larger rooms. Try cream shades and icy blues!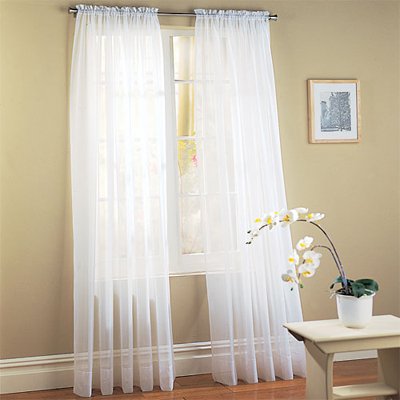 3. Natural Lighting
There's nothing like fresh, natural light to keep you in good spirits. Obviously you can't cut out bigger windows (or can you??), but by using sheer drapes
(on Amazon for $7.50) in lieu of darker, heavier fabrics, you'll get better and brighter light.
4. No More Knickknacks
While I understand the nostalgic appeal of knickknacks, my minimalist taste has led me to abhor them ever since college. The only things I collect are bags and shoes (and of course, clothes and jewels). If you really want to display souvenirs, keep them all on one shelf to avoid creating a cluttered, mishmash of a home.
5. Mirrors
Honestly, who doesn't love mirrors? I covered the back of my bag closet in them to make it seem larger – this is the best trick in the book! I also had my cabinet doors mirrored when I lived in a smaller place in LA. In bigger rooms, try MODLOFT's floor mirror (on Fancy for $450) – the right angling will draw more light in – or Target's mirror-top table (on Fancy for $159.99).
Image Credits: Martha Stewart & Elle Decor