Good hair can make a girl's day, and I have yet to see a celeb scowl with Jen Atkin at her side. Not only is she the hottest hairstylist in the biz (regularly taming the locks of clients like Sophia Vergara, doing hair for national ad campaigns, and working her magic on TV and in music videos for iconic artists like Madonna), Jen is also a social media wizard. She's garnered over 96k followers on Instagram with behind the scenes photos and daily hair inspirations. The gorgeous stylist has plenty of tips for everyday looks, though, and I made sure to get two of my favorite looks for you to try out – beachy waves (or as Jen calls it, model off-duty hair) and city girl glam!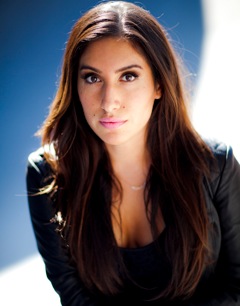 Beach Waves
Can Asian hair look good with Jessica Hart's beachy waves?
Yes, absolutely! It's important to make sure that you're using products that will help not only give your hair texture, but support it throughout the day.
I have five minutes in the morning. What are three quick tips on perfecting beachy waves with flat or curling irons?
The trick for this is to not over think it! Beachy waves are supposed to look slightly messy and undone. Grab a medium-sized curling iron and quickly curl large sections of hair, leaving the ends out and straight, so you keep that natural look.
What size curling iron gives you the best wave?
It depends on how much of a wave you want. If you're looking for beach-ready waves though, a medium-sized curling iron will do.
How do you keep beach hair from looking frizzy?
If you have frizzy hair, Clear Scalp & Hair Beauty Therapy's Frizz Control Shampoo
and Conditioner
(on DrugStore.com for $5.59 each) are great for washing your hair. It helps tame flyaways for a smooth, polished look. Using this combo in the shower will save you time when you have to style your hair. I also love Moroccan Cream to help fight frizz.
Sea salt sprays are super trendy right now. Which one gets your seal of approval?
Right now, I am loving Sachajuan's Ocean Mist texture spray
(on Amazon for $17.98). It gives hair just the right amount of texture so that your hair will hold whatever style you put into it. Spray a little on damp hair before styling, then a little when it's dry for enhanced texture.
City Glam
What should Snobs who go straight from the office to cocktails do to keep their hair from falling flat?
I love Oribe's Dry Texturizing Spray
(at Neiman Marcus for $39), and I loved it even more when they made it in a travel size
(at Neiman Marcus for $19.50)! It fits into my bag when I'm on set and need to touch up my client, and this would fit great in any purse. Spray a little all over hair to bring it back to life.
Would you give us three ways to refresh our hair after work?
Dry shampoo is great for adding body and life back into your hair. Keeping a Sonia Kashuk brush (at Target for $15.79) with you at work is great to just polish up after a long day. If all else fails, have a back-up plan – a few bobby pins and a ponytail elastic are great ways to put your hair up in a chic braid or effortless bun.
You work with celebs like Sofia Vergara. How long does it normally take to create her signature waves?
It can take anywhere from 30-45 minutes.
What's the best on-the-go hairstyle that'll keep your locks out of the way yet looking great?
Ponytails! We saw a couple of different ponytail looks down the runway for the Fall 2013 season, and I think they will never go out of style.
Which dry shampoo would you recommend for extending a blowout?
I love Drybar's Detox Dry Shampoo
(at Sephora for $20). It's great for absorbing oil at the roots, and even brushes through nicely for fullness and body.