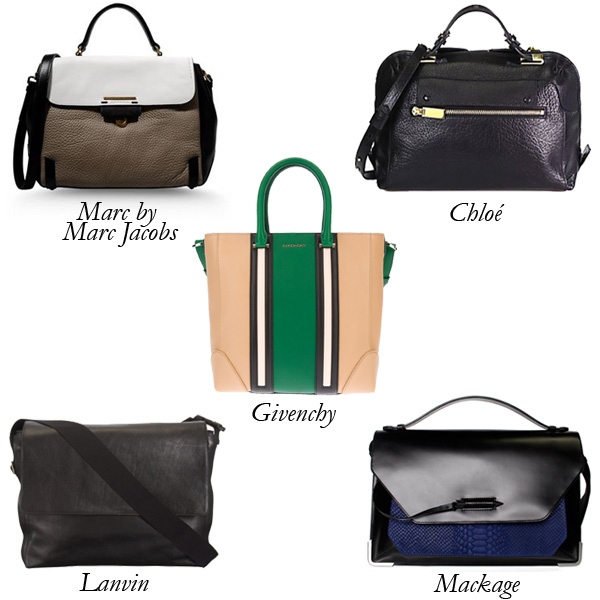 No matter how long it's been since you hit a campus for September's first day of school, we never seem to lose that "back-to-school" feeling. Post-Labor Day it's time to get serious again (well, not too serious!), and it's the perfect time of year to get back to basics and pick up bags that will serve you well through spring. Here's to the simple, practical, and versatile – and to not have to load these bags up with textbooks!
1. Marc By Marc Jacobs Medium Leather Bag:
 If you aren't into this effortlessly colorblocked option, this cute and chic daily bag comes in a variety of colors for you to choose from. On The Corner for $515.
2. Mackage Pandora Bag: The first bag collection from the outerwear-maker proves they know their stuff. The Pandora is an amazing frugal option that doesn't compromise style. It's not available online yet, so for now you can pick up the similar Jori crossbody bag for $495. To be available at Mackage for $395.
3. Lanvin Convertible Messenger: Exuding masculine cool, this convertible messenger is perfect for those who actually go to school. Need more room? It has handles tucked in; pull them out and suddenly you have a tote. At Barneys New York for $1,450.
4. Givenchy Lucrezia Tote: Ivy Leaguers and color enthusiasts alike will appreciate Givenchy's sporty-meets-prepster stripes. I, for one, love a structured open tote; it's super-user-friendly for throwing everything in, no thought required. On Farfetch for $1,860.98.
5. Chloé Brooke Medium Satchel: This is a great new shape from Chloé. Basic and pared-down (how far we've come from the Padlock!) but not overly so. I prefer it to their other trimmed-down styles. At Saks Fifth Avenue for $2,195.