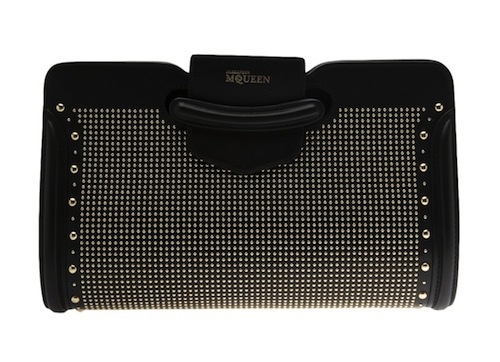 Just because studs aren't going anywhere doesn't mean they aren't still experiencing new incarnations. The latest stud that's got us panting doesn't bear a six-pack, though it is perfectly in shape. I still love chunky pyramid studs, but there's something to be said for a subtler message (remember Hermès' Fall 2010 Kelly?). Small-scale and more refined , these bits of hardware know there's safety in numbers. They also get the point across: you're a badass, but one who wears the badge with ultimate discretion.
1. Alexander McQueen Heroine Clutch:
With a galaxy of micro hardware, a partial frame of bigger counterparts, and some great curves, this Heroine is a hero. On Farfetch for $1,860.
2. Saint Laurent Duffle 3 Micro Studs Leather Bag:
Saint Laurent turns their instantly timeless duffle up about a hundred notches with a coating of well over a hundred studs. On Luisa via Roma for $1,950.
3. Saint Laurent Lutetia Micro Studs Leather Clutch:
Switch your Saint Laurent over to evening with this super-sleek take on eighties excess. On Luisa via Roma for $1,250.
4. Maiyet Studded Ayla Clutch:
Curved angles and sharp oval gussets (with suede insets) give this starry clutch maximum depth. At Barneys New York for $1,850.
5. Burberry Prorsum Ablett Stud-Embellished Glossed-Leather Tote:
So this big-time tote clearly isn't a mini, but it just goes to prove the power of the teeny-tiny stud. Glossed midnight leather glitters like never before. On NET-A-PORTER for $2,495.