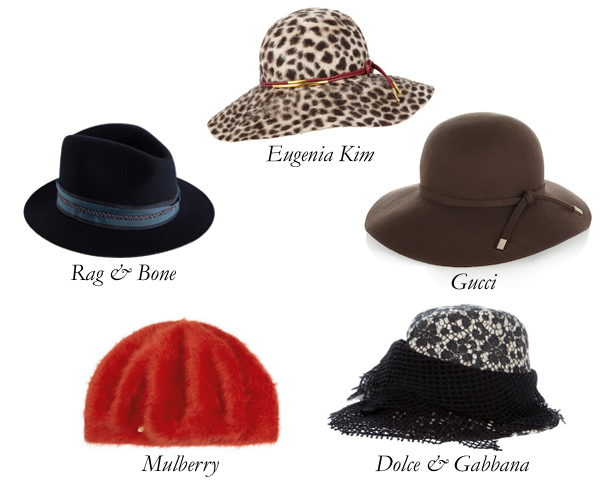 When it comes to hats, more is never, ever enough, so I've found extra fall options guaranteed to enhance any collection. Best of all, they keep you chic and warm, transitioning your look perfectly into winter. Some will go with just about everything in your wardrobe, while others are meant to be the central component of an outfit. No matter which you choose, they're sure to add just the right amount of icing to your ensembles!
Eugenia Kim Blake Wide Brim Hat:
Between the soft rabbit fur and leopard print, you'll have all of your animal instincts chicly appeased. At Barneys New York for $488.
Rag & Bone Floppy Brim Fedora:
Play to your artsy side with a fedora. The braided accent along the band gives it just enough character without detracting from the versatility. At Barneys New York for $175.
Mulberry Angora-Blend Beret:
A bright red, furry beret? It's an easy piece to love. Forget what the TV show says – red is the new black. On NET-A-PORTER for $210.
Gucci Wool-Felt Wide-Brimmed Hat:
Gucci's topper exudes '70s elegance. It's a classic, easy to wear piece – perfect for hat novices looking to begin their collection. On NET-A-PORTER for $525.
Dolce & Gabbana Mesh Hat: This hat, on the other hand, is best for aficionados who aren't afraid of shying away from the interest a well-chosen topper generates. It won't keep you warm, but the attention will certainly have you feeling flushed. On Farfetch for $563.59.