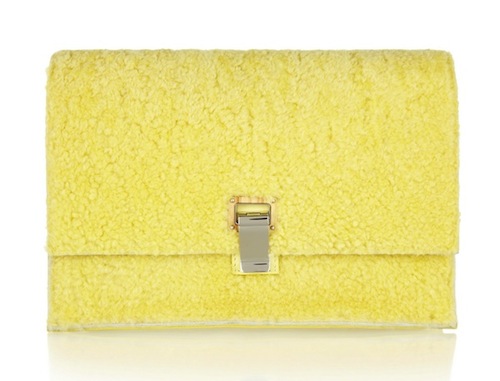 The idea of long shearling hair grazing my skin kind of gives me the creeps. But just because I don't like long and fuzzy fur on my bag, that doesn't mean I'm opposed to the whole concept. I've warmed up slightly after seeing the latest crop of shearling bags. Sticky hands aside, sheared shearling is much more manageable (and palatable). Especially if it comes in the form of a small Proenza Schouler clutch.
Though I think my current favorite has to be Fendi's Be Baguette in blue shearling with long chain strap. A thin strand of heavy metal creates instant chic for something soft and fluffy. (As a side note, it's interesting that Karl is mixing iconic codes of Chanel with the Fendi brand, no?  I have a Chanel cuff exactly like this chain-link and leather combo by Fendi). What about you – what's your take on shearling bags? A little bit chic or just Little Bo Peep?
All available on NET-A-PORTER.
1. Proenza Schouler Lunch Bag Small Shearling Clutch ($870): You already know the unfussy style is right on. Turns out, so is shearling when it comes in just-sweet-enough colors like lemon-yellow and lilac-gray.
2. Newbark Scarlette Shearling and Patent-Leather Shoulder Bag ($1,575): A flash of shiny patent leather, metallic touches, and a boyish strap almost make you forget that shearling is involved here. Perfect for the snob who wants to ease in to the trend.
3. Fendi B Baguette Mini Shearling Bag ($3,100): The color is as rich as the texture, and Fendi's fresh take on the plush stuff is enough to turn me into a shearling-toting snob!
4. Jérôme Dreyfuss Loic Shearling Tote ($890): I usually reject Dreyfuss' bags because they have too much going on. This one has the right amount: the statement of sheared shearling and a sense of restraint.