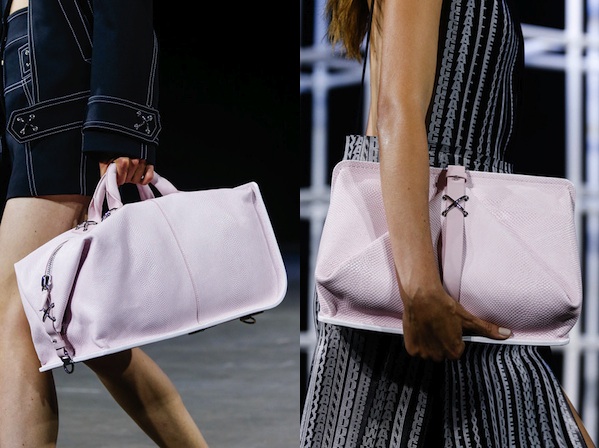 Is it me, or are Alexander Wang bags better than ever? Since seizing the reigns at Balenciaga, his eponymous line of bags have emerged with a newfound maturity and sophistication. His Spring 2014 ready-to-wear collection, as casual and youthful than ever, welcomes the aesthetic that made him famous (think cleaned-up bad girls), but his bags are refined, tailored, and clean. It's interesting that as other designers are downsizing to mini bags, Alex decides to magnify his. Then again, he's always setting trends, not following them.
Crisp top-handles attached to duffels nearly large enough to be weekenders; ultra-roomy day clutches (or night – why not?!) folded to minimalist perfection; and texture, texture, texture. The kind of softened pebbly leather that has deep ridges and looks even better with wear and age, in neutral hues and a perfect pale pink that I'll be addicted to come spring. As for the hardware, there's a new signature detail in town: a sleek, silver X to punctuate with subtle ease.
Among the boxer short-inspired shorts and witty winks to the nineties (a la the "Parental Advisory: Explicit Content" screen-printed sweatshirts and the "Alexander Wang" prints, an homage to old-school logo mania), my favorite looks are the boxy jackets, some cut on a dramatic diagonal to reveal taught tummies; straight-up crop tops (if any trend is here to stay, it's this one!) and the teeny-tiny mini-skirts, some of the naughty cheerleader variety and others featuring oversized pockets and contrast stitching. Not that the guy ever lost it, not even close, but a collection like this just goes to show that Alex has it with plenty to spare and share.