Who wants to shine bright like a diamond when you can shimmer like gold? There are few beauty products more luxurious than the ones made with real gold. That's right – it's not just for jewelry! Sure it's nice to have our baubles sparkle, but it's better to have radiant skin. See how I get my glow…
Chantecaille Nano Gold Energizing Face Cream and Eye Cream: Together, these make up the Holy Grail of gold-infused beauty. I used to save them for Fashion Week (you'd never have known I was only getting four hours of sleep each night!), yet now that I'm older, I indulge everyday – especially when your skin needs help adjusting during seasonal changes. Though the prices are steep, a little of these creams goes a long way. Face cream and eye cream at Chantecaille for $420 and $265.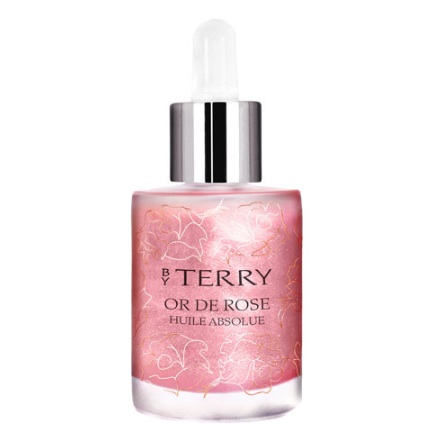 By Terry Or de Rose Huile Absolue Gold Oil:
Face and body oils are bigger than ever. Have you tried gold oil, though? This is one of the best! Pure 24-carat pink gold adds a hint of shimmer to your skin – so much so that two of my longtime friends just told me at lunch that I look younger than ever. Tip: I mix it with Cover Expert foundation – you get coverage and a glow at the same time! At Barneys New York for $124.
Tatcha GOLD Camellia Nourishing Lip Balm:
While the price of gold is higher than ever, Tatcha makes it affordable with this decadent lip balm. I slather it on morning and night after brushing my lips with a dry toothbrush (lips are the often-forgotten step in the skin care routine!). The 24-carat gold leaf enhances any lipstick I apply over it. I even put a bit on my elbows when I'm going sleeveless to give my skin a little pick-me-up. At Barneys New York for $36.