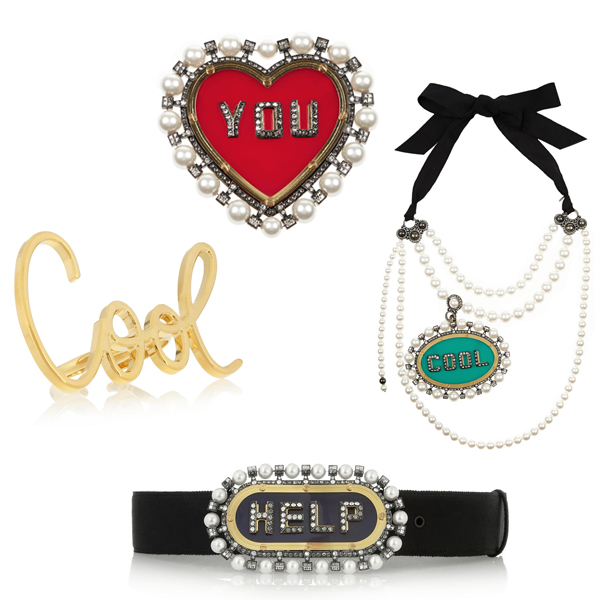 Subtlety? What's that? For Fall 2013, Lanvin is making the message clear – and that message is go big or go home. Accessories emblazoned with single words like "cool," "love," and "help" are the kind of pieces you'd expect to see Rihanna wear with aplomb. They sound a little kitschy, yet in pewter and faux pearls, Alber Elbaz makes them as sophisticated as can be. The question is will you pay the big bucks for these big statements? If you're feeling unsure, check out the Frugal Snob options below…
Gloria Resin, Faux Pearl and Swarovski Crystal Necklace ($1,785):
Alber lets us wear our hearts on our sleeves. This red resin brooch isn't pulling any punches!
Gloria Resin, Faux Pearl and Swarovski Crystal Necklace ($3,195):
Pearl necklaces have a reputation for being a little stuffy, so what better than a tongue-in-cheek brooch to liven things up?
Crystal and Faux Pearl Belt ($2,780):
Sometimes it can be hard to ask for help, but not when you're asking with crystals!
Stephanie Gold-Tone Ring ($875):
While they say it's not cool to call yourself cool, Alber makes it chic to spell it out for everyone and flash it around on your digits.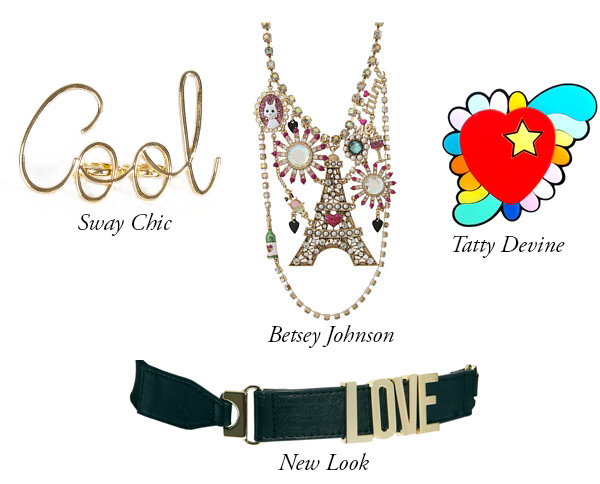 Tatty Devine Heart Brooch:
For a more youthful, Rainbow Brite style brooch, go with London-based Tatty Devine's handmade heart. On ASOS for $75.94.
Betsey Johnson Paris is Always a Good Idea Eiffel Tower Bib Frontal Necklace: Playful pieces are Betsey Johnson's thing, and while this is a little crazier than its Lanvin counterpart, it's also 1/200th of the price. Just saying. On Zappos for $165.
New Look Love Stretch Waist Belt:
When it comes to accessorizing, all you need is love – or at least, that's the idea with New Look's cheeky waist belt. On ASOS for $7.59 (from $13.48).
Sway Cool Ring: Not only is this basically the exact same ring as the Lanvin, it's adjustable, too, making it a great little gift when you're in a bind and need something that's, well…cool. At Sway for $12.